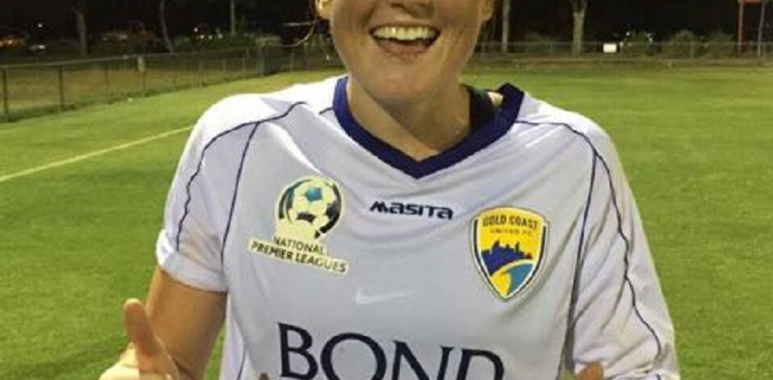 Photo of Meg McElligott celebrating some early season goals, a hat-trick against Lions pre-season.
An outstanding start to season 2018 sees Meg McElligott earn her 4th inclusion in the #NPLWQLD Team of the Week after another strong performance against Mudgeeraba in Rd6.
A brace from Meg and strong contributions up front from Mackenzie Akins, and a debut goal for Krista Ruehe, helped GCU overcome a 3-1 deficit and earn a hard fought draw.
We sat down with Meg to find out a little more about the power forward.
Q. You've been in scintillating goal scoring form so far this season Meg, what do you put that down to?
"I've been fortunate to be in the right place at the right time.  It's still early in the season, and with the league expanding to 14 teams this year, there is a lot of competition.  As a team we are still sorting out how to play to each others strengths, and Michael Cook is a very supportive coach for us, and I feel we are on the verge of giving some of the top teams a real challenge on the pitch."
Q. GCU Women take on the Brisbane Roar NTC this Friday. You previously trained with the Roar, when? And what was that experience like?
"I have trained with them in previous years. Last September when I came home from playing in America, I got in contact with Mel Andreatta and trained throughout the W-league season with the team. It was a surreal experience from the beginning…. it's hard not to put these players on a pedestal – I've idolised some of them for a long time and there I was now training with them. But I quickly learned that to train and play at that level requires a standard that goes well beyond what's required at club, representative, or even NPL standards.  Even in simple passing drills, the passes are expected to be not only spot on, but also the weight of the pass is critical to allow them to receive it without having to make a step in any direction, and drop at their feet."
Q. What are you expecting this Friday night from the Roar NTC? Any players to watch?
"I'm expecting a very tough match. The entire Roar program has great coaches who all prepare very well tactically, and these girls are selected because they are the best of the best in their age bracket.  So they have serious talent in every position on the pitch, so I think we need to be prepared for them as a well formed unit more so than individual players."
Q. And what are your goals personally for 2018 and the squad's goals?
"I've had some early success with scoring, so I don't plan to lower my intensity now. The squad is still finding our way, and we've had some early setbacks with injuries, so we're still trying players in different positions to see how we best gel as a team."
Q. And lastly, where do you want to take your football?
"I've learned a lot from playing NPL in Newcastle, Sydney, and now southern QLD.  But also my time with the Brisbane Roar Training Squad, and playing in the USA with the Washington Spirit Reserves, makes me want to strive to reach the highest goals I can possibly reach. Professional football in Australia, USA, and even playing in Europe are all on my bucket list."
Meg will have more opportunity to add to her impressive goal tally when the GCU Women welcome the Roar NTC to the home of Surfers Paradise Apollo SC, Lex Bell Oval, this Friday night at 7pm.