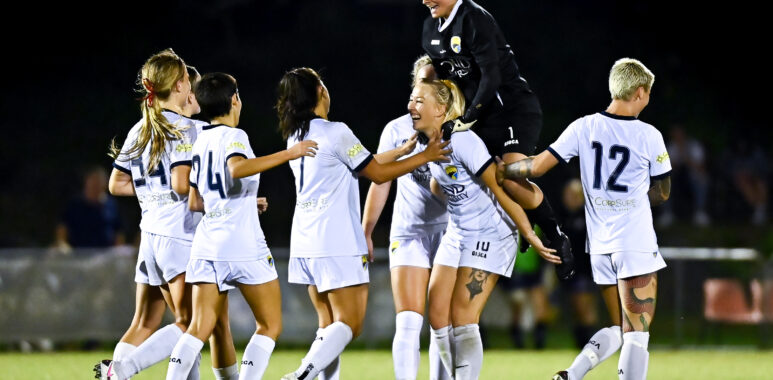 Young brigade impressing!
Gold Coast United continued their winning ways in Rd6 away against the Gap (Kyoko)
Alex Bundalo was delighted with another strong team performance in last night's 8-1 win over The Gap, their fifth win in five starts to open the defence of their Football Queensland #NPLW league crown.
With Bella Habuda and Deanna Thompson banging in trebles to bring their respective season hauls to 11 and 8 respectively, the coach saved his biggest wrap for the five U23 players among GCU's starting XI who continue to impress at the senior level.
Bundalo told the Brisbane Football Review that he was "very pleased with the fact that we've got five under 23's, a 15 year old, two sixteen year olds and two seventeen year olds, and we're still picking up points."
Missing several key players with injury – in particular the centre back pairing of Momo Hayashi & Ellie Weston – Bundalo also confirmed that, "we're always going to score goals, and we're not conceding many."
With Habuda and Thompson leading the line there's a ton of speed and power in a front third capable of unlocking most defences. Supported by the guile and awareness of Eash Norrie in behind and the grit and drive of the experienced Zoe Corbett and Cas Zaffina among the back five, it's United's younger guns who are firing a fresh buzz across the Women's ranks.
With Hayashi and Weston sidelined, seventeen-year-olds Reese Donnelly and Charlie Farmer anchored the defensive line in last night's 8-1 rout of the home side.
Ellie Weston & Momo Hayashi pass on some tips to Reese Donnelly & Charlie Farmer (Kyoko)
Donnelly made her third consecutive start in the heart of United's defence alongside Farmer, an #NPLWQLD 'veteran' with 60 appearances since debuting in the senior competition in 2018. All the more impressive is the fact that both players juggle year 12 studies with top level football.
Across the middle of the park, teenagers Claudia Danckert and Charlie Adamson continue to grow in stature with each appearance. After scoring a brace in the U23's 2-1 win earlier in the day, Adamson stepped up and played a full 90 minutes for the Women. The technically adept Danckert showed numerous glimpses of her potential including an astute pass into space that set the flying Kira Richards-Bassett free on the left to score her maiden senior goal.
At just fifteen, Kira's been impressive in her first five #NPLW starts, but no more so than last night, picking up a brace in exciting style playing further forward than in previous games.
According to Alex Bundalo, "Kira has got potential, one of the players with the biggest potential I've seen."
"If she keeps working hard in a good environment, she can go all the way."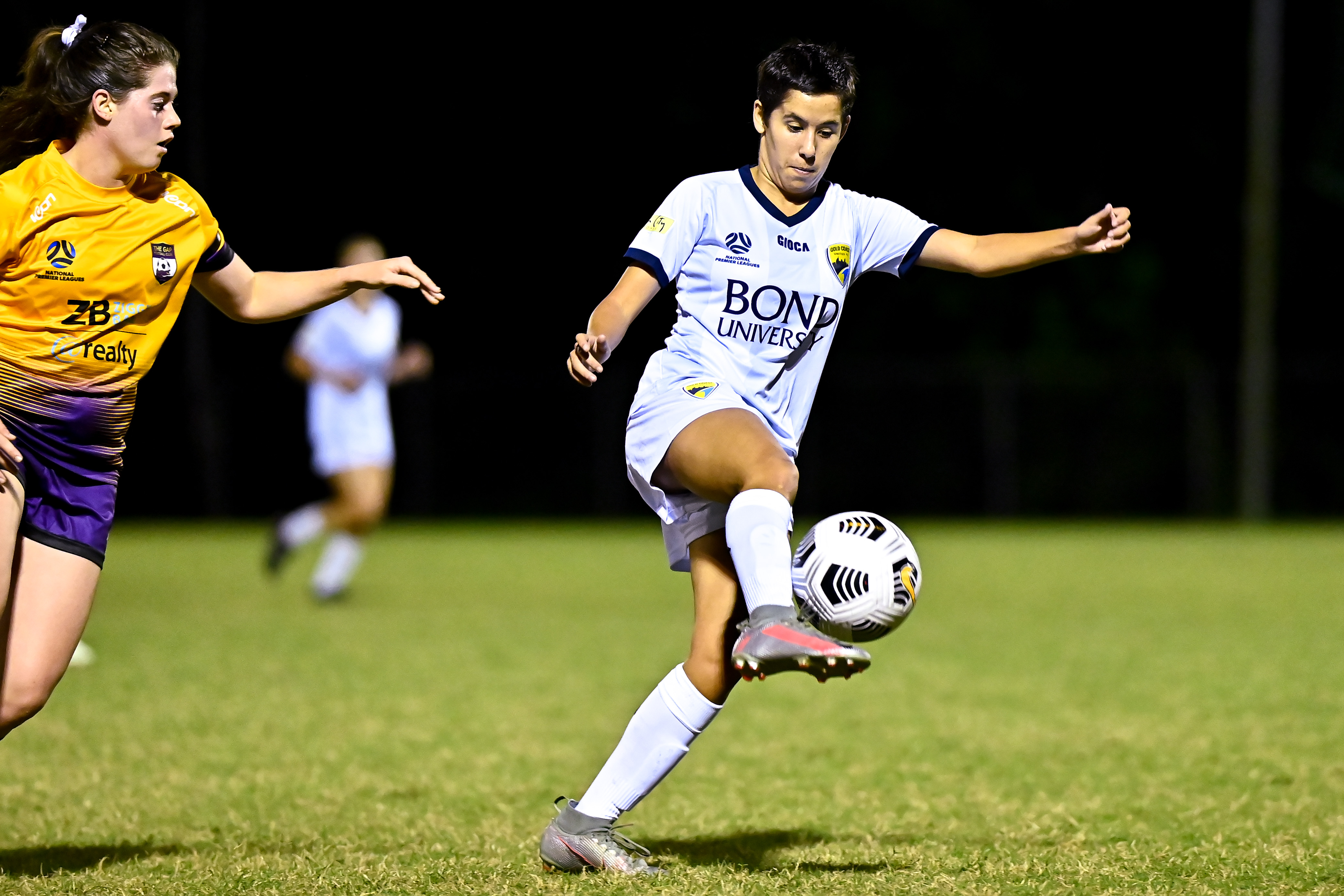 Kira Richards-Bassett  (Kyoko)
Another  impressed by Kira's performance was Brisbane Football Review's Adam Pace who was also on hand at Walton Bridge Reserve and voiced his thoughts on Twitter post game.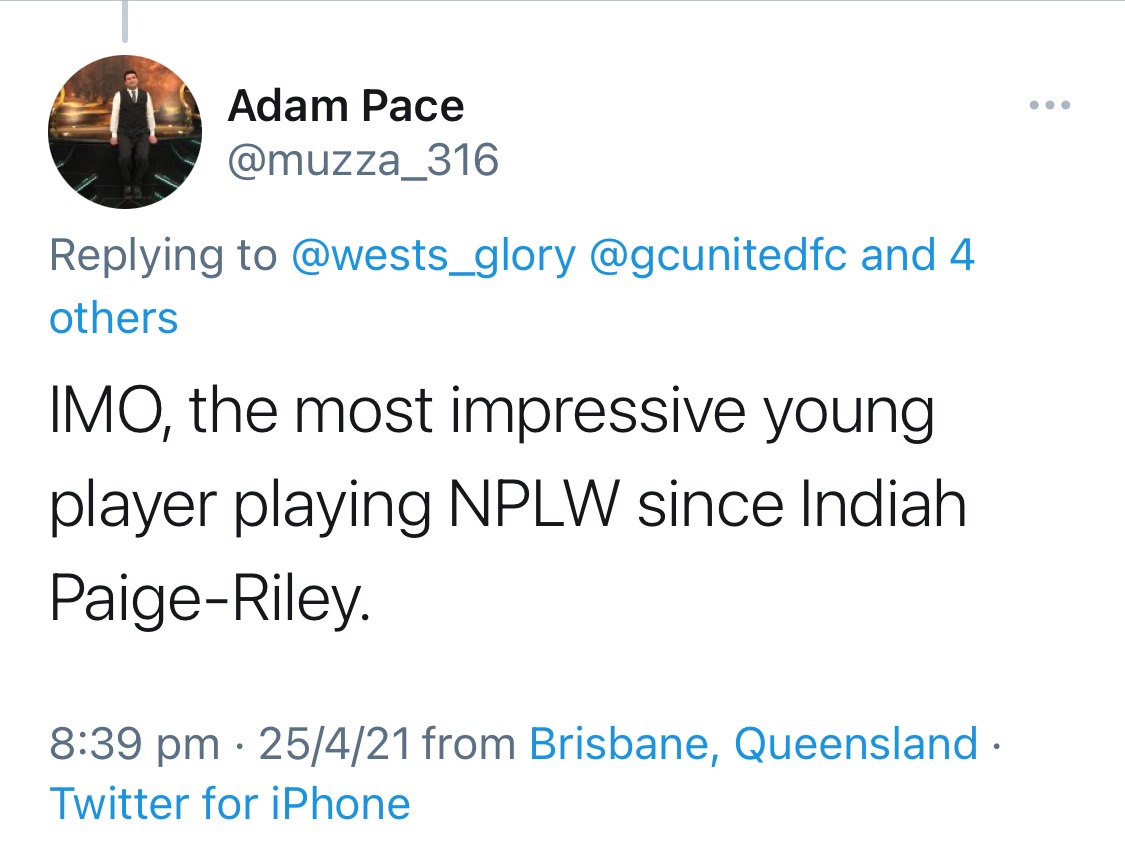 One thing's for sure, with the uber-experienced mentor Alex Bundalo pulling the strings, there'll be no getting ahead of themselves and a focus on 'one game at a time' as United build steadily into their season.
You can catch the Ladies in Rd7 action at home this coming Sunday the 2nd of May when Brisbane City head to Coplicks.
Kick-off is at 4pm.
Rd6, Walton Bridge Reserve, Sunday 25 April, 2021
GCU 8 defeated The Gap 1
Goals
Bella Habuda
(32′ 55′ 86′)
Kira Richards-Bassett
(36′ 60′)
Deeana Thompson
(45′ 63′ 71′)