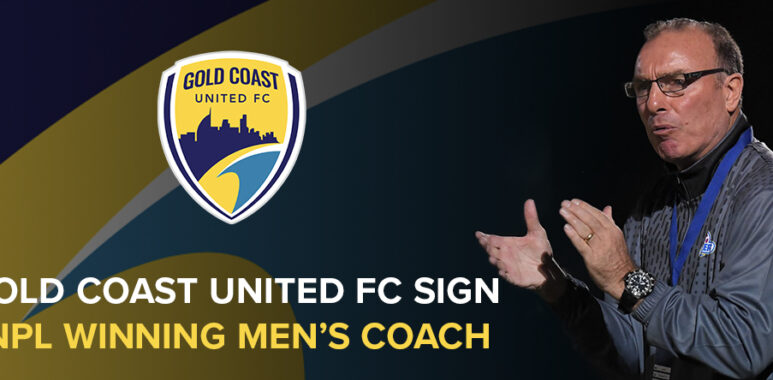 Signing NPL's Winning Mens Coach.
Media Release
Gold Coast United FC sign NPL winning men's coach
Gold Coast United FC have scored a major coup leading into their inaugural NPLQ season in 2018, signing Sean Lane as senior men's coach.
Lane took Brisbane Strikers to the league title in the just completed NPLQ season, but has opted to join the new Gold Coast franchise.
His signing means United have secured the coaches of both the men's and women's 2017 NPL premiership winning teams after announcing earlier this week that Michael Cook would be returning to the Gold Coast after success with Peninsular Power.
Gold Coast United CEO Troy Bingham said Lane was their 'number one choice', but only partly because of his achievements with the Strikers' elite men's team.
"Sean has a proven record of developing promising teenagers through to achieving their potential at senior men's level," said Bingham. "That was the key reason we went after him. He was our number one choice for the position.
"Sean understands the coaching, culture and pathway required.

"There was a very strong field of coaches who applied for this position, but we are really happy that the person who was at the top of our list was very keen to fill the role."

Bingham said Lane's coaching style blended 'old-school toughness with a modern approach'.

"As a high calibre ex-player he knows what it takes," said Bingham. "His teams play an attacking, attractive style of football."

Lane, who has lived on the Gold Coast for the past seven years, said it was a tough decision to walk away from the Brisbane Strikers.
"The Strikers are a great club. Great tradition. Great history," he said.

"We just came off the back of winning the league with a fantastic group of players. Walking away from that was a big decision, but the reason why I did is all the opposites to that.

"Coming to United, you have a brand new club where you can create your own culture and you can set your own course and direction and create your own history.
"It is a big challenge but that was the major attraction."

Lane said player development was at the core of his approach to coaching.
"I have been in and around professional and semi-professional football since I was 16," he said. "I have had a lot of good coaches to learn from. I have had a lot of good mentors.

"Obviously the aim is to be successful and win games, but I am happy to give the young lads a chance if they are good enough.
"I am a firm believer in the old adage – if you are good enough you are old enough. Last season with the Strikers is proof of that. I think I know what it takes for young players to reach the next level."

English-born Lane played at a national schoolboy level there before being signed as a 16-year-old by fourth division club Hereford United. He also played for Derby County in division two before moving to Australia where he played for National Soccer League teams Preston and Brunswick Juventus.
Before joining the Strikers Lane was heavily involved in coaching Gold Coast junior representative teams and was the city's Youth Development Director.

Lane said his first coaching assignment would be to create the right culture.

"If we create the right culture, that is the first step towards success. From that the results on the pitch will follow," he said.
ENDS
For more information contact:
Gold Coast United FC CEO Troy Bingham
Ph: 0437 237 037