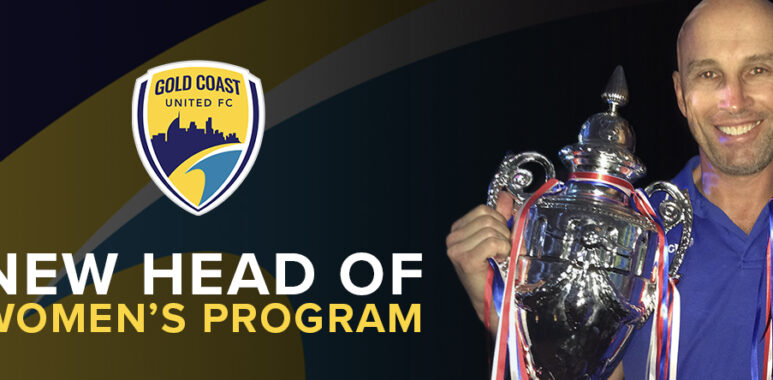 New Head Of Women's Program
Media release: Embargoed until midnight Monday, September 4
Gold Coast United name Women's Head Coach
NEW NPL club Gold Coast United have etched their intent of swift success in women's soccer by signing Michael Cook to head their women's program.
Cook, a familiar name on the Gold Coast, has just led Peninsular Power to league and grand final victory in the just completed NPLQ women's season.
"We wanted the highest calibre person in the state to run our women's program and that person is Michael," said United CEO Troy Bingham.
"Not only is he a proven, quality football coach he has dedicated his career to coaching females.
"United is determined to send a message loud and clear that women's football is as important as the elite men's pathway under our banner."
The appointment is a home-coming for Cook, who was born at Southport Hospital and played his first game of soccer for Musgrave Mustangs as a five-year-old, in 'about 1972'.
"I am very excited to be coming home," Cook said.
"This is a perfect fit for me. I have been coaching females exclusively for the past five years and can't wait to create more opportunities for girls and women on the Gold Coast."
Cook's playing and coaching career on the Gold Coast also included clubs such as Southport, Nerang, Broadbeach and Gold Coast Knights before he was one of the founders of the Northern Stars, who later became the Pacific Pines Football Club.
For the past five years Cook has been head of the women's program at the Brisbane-based Peninsular Power.
Bingham said Cook's strong links with established women's football pathways was a compelling part of his skill set.
"Not only has he a proven record in pathways through to the W League, but also numerous international destinations," said Bingham.
"We are talking USA scholarships and playing opportunities in places like Japan and Denmark."
The appointment of Cook comes on the back of United signing the highly qualified Craig Midgley as their inaugural technical director and Rick Coghlan as their Football Operations Manager.
ENDS
For more information contact:
Gold Coast United FC CEO Troy Bingham
Ph: 0437 237 037
Comments are closed.