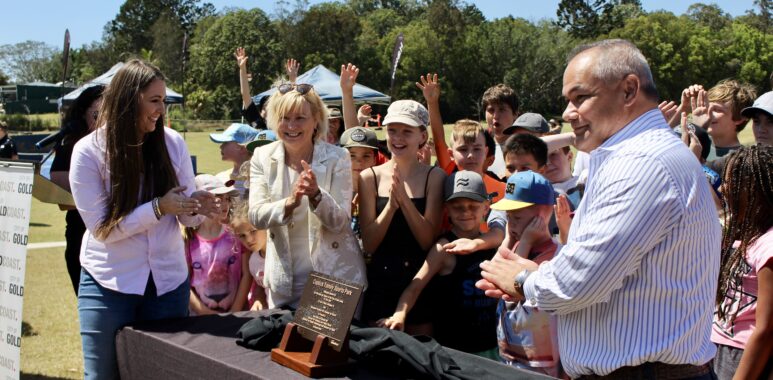 United Home Ground Officially Opened
Meaghan Scanlon MP, Cr Gail O'Neill (Division 14) & Mayor Tom Tate on hand at the official opening of Coplicks (Luke Ireland / Sports Gold Coast)
Coplick Family Sports Park was officially opened yesterday, marking a significant milestone for all stakeholders involved in the renovation of the Tallebudgera facility.
The opening of Coplicks was celebrated by hundreds of community members including Gold Coast United families and junior players, who will benefit from the facilities for years to come.
Mayor Tom Tate was among the dignitaries on hand to mark the occasion with the unveiling of a plaque, and he hopes the ground will be a huge boost for the southern Gold Coast community and Gold Coast United.
"This opening is wonderful for the southern part of our city with Coplick Park now double the size," said Mr Tate.
"This area was once renowned to be flood-prone and the fields would be out of commission, but today we see how well the grounds will be used.
"Now we can move forward and we will see these young kids using it being the future sport champions of our city."
The $11 million-dollar redevelopment includes an expansion to the playing fields, better field drainage, change-room construction and much more.
While United have called Coplicks home since January and throughout their recent 2019 National Premier Leagues Queensland campaign, the official launch of the grounds and support of the community, signifies how far the club has come and continues to go.
In just a matter of a few years, the resurrected Gold Coast United has grown into one of the premier football clubs on the Gold Coast and one of the strongest in the State with over 325 players, a wealth of dedicated volunteers and now a fantastic place to 'officially' call home.
Coplick Family Sports Park- what's in a name?