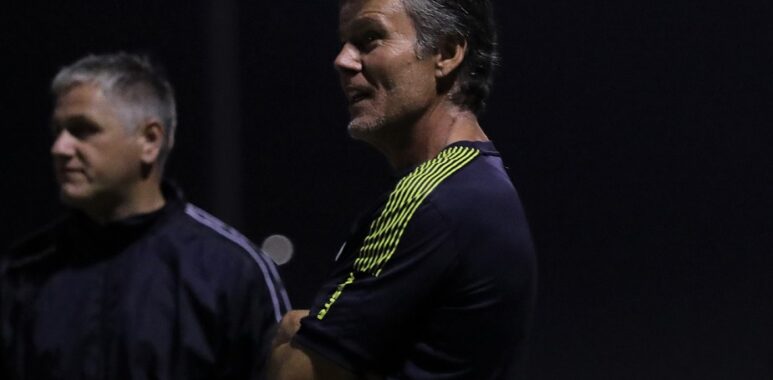 Alex Bundalo (r) with United TD Craig Midgley during season 2019 (Craig Clifford / Sportspics)
Gold Coast United is pleased to announce Alex Bundalo as the 2020 Women's head coach. An assistant to Craig Midgley in the back half of season 2019, Bundalo brings much experience to the role.
As a youth Bundalo's flair and technique saw him represent the 1983 All Australian Schoolboys side that included cricket legend Steve Waugh. The former attacker also caught the eye of the national selectors and was chosen in the Australian squad that took part in the 1985 FIFA World Youth Championships in Russia alongside such notable football identities as Ange Postecoglou.
For United's Technical Director Midgley the decision to appoint Bundalo sits squarely within the club's philosophy of developing a positive environment and culture that encourages and stimulates players to strive to achieve their best.
"Alex is a club person through and through, he knows the place, the type of football we want to play and the type of player we're looking to work with and develop."
"On top of all that he's a fantastic coach. 
"His dedication and passion for the game is infectious and backed by his knowledge and experience our women are in very good hands."
After a distinguished professional playing career that included over 180 NSL (National Soccer League) appearances for then notable heavyweights, Wollongong City and Apia Leichardt, Bundalo turned his attentions to coaching to continue his involvement in the game.
A key figure in the re-emergence of the club in 2018, Alex guided United's SAP and U13 Boys to much success in the past two seasons. In 2019, a season that saw the women storm home to a third placed league finish, Bundalo was at the heart of rebuilding confidence and self-belief after a change in coach mid-season.
Alex brought a fresh injection of some much needed spark to that squad which subsequently challenged all comers and stamped their mark on the back end of the Football Queensland, National Premier Leagues Women's competition.
A fervent believer in youth development, Alex is excited by the challenge of raising the bar even higher in 2020 and continuing to give the club's exciting youth talent the opportunity to gain valuable senior football experience.
According to Bundalo, "the club is very blessed to have a strong female focus with a raft of very talented young players across all of our ranks."
"My role is to continue the progress that's been achieved so far and to work with all of our coaches to grow the profile of the club as an incubator for young girls and women to achieve their goals in football."
"Success on the pitch comes from lots of hard work off it and I'll be working tirelessly to provide the best possible environment for our players to grow and develop as young footballers and young women."
"We're really well placed to go to the next level with our female programs and that's both exciting and challenging."
With the nucleus of most squads retained from 2019, there are positions available for young female players to trial to play in the Club's NPLW and SAP Girls programs in season 2020.
Register your interest to be involved at this link http://bit.ly/GCU2020FemaleTrials