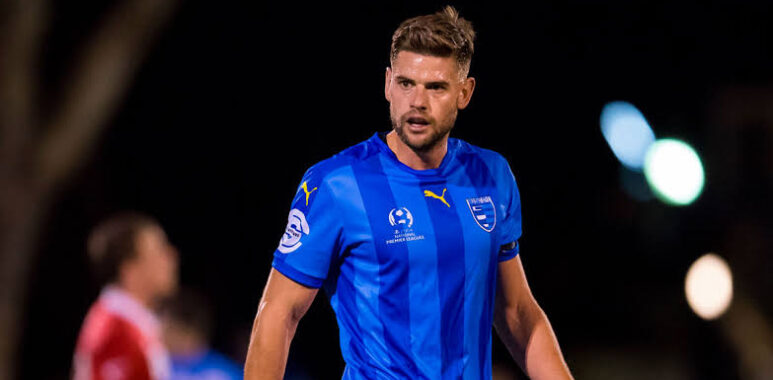 Sam Smith on board for 2020
Sam Smith joins Gold Coast United for season 2020
Gold Coast United is pleased to announce that Sam Smith has joined the club for season 2020.
In a coup for coach Kristian Rees, Smith is set to add further strike power up front along with additional leadership and significant experience to United's Men's squad in Rees' second year at the helm.
A goal scoring revelation since arriving in Australia in late 2016, Smith won the NPL Queensland Golden Boot the following year with 22 strikes in as many games for now-defunct Gold Coast City before finding the net nine times in 24 NPL Victoria appearances for Port Melbourne in 2017. On return to the Gold Coast, Smith joined the Gold Coast Knights and struck 12 times this season while leading Grae Piddick's squad to Championship success.
For Rees, whose relationship with Smith stretches back to the City days, securing the attacker is a real boon for the squad and the club.
"Sam's a quality player with an eye for the net."
"He's someone who knows and reads the game well and can communicate that with others.
"And he's also a role model for young players in terms of his approach to the game on and off the park."
"Have another experienced player with a professional approach to the game around the place is massive. Not only will he help organise things on the pitch but he'll show young players how to conduct themselves off it and set a standard in and around the sheds too."
Smith, Derby born and bred, always had dreams of living in Australia and since arriving has put his UEFA B licence to good use, working in a coaching capacity alongside fellow United player, Justyn Mckay, after injury disrupted his career in England where he played professionally at Cambridge United and Lincoln City.
Very excited about joining the club, Smith knows that the cross-town move may raise a few eyebrows with some among the Gold Coast football community, but according to Sam, "it's the right time of my career to make the move."
"I've worked with Kristian before and I know the standards he expects, the plans he has and his outlook on football. These all align with mine."
"And I've played with Justyn before and he's also a very good friend. He's told me nothing but good things about the club.
"He's a quality player and we know how each other thinks and likes to play the game.
"He's someone I really enjoy playing alongside."
Renowned for his 'team first' approach, Smith comes to the club still hungry for success and searching to add to his impressive goal scoring tally.
"I go into every single match thinking I can score a goal otherwise there'd be no point going onto the pitch."
Welcome to United Sam!