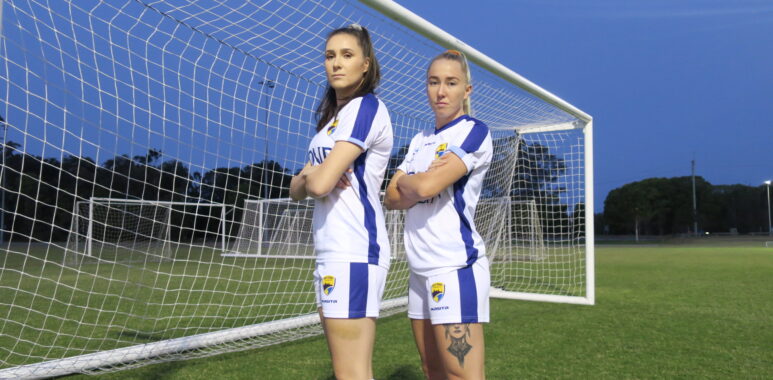 Ellie Fryer & Deeanna Thompson, central to United's 2020 Women's campaign
Vastly contrasting seasons for two of United's best, Ellie Fryer & Deeanna Thompson, who shone in 2019 after injuries interrupted their 2018 NPLW campaigns. And the good news is that they'll both be back in Gold Coast United colors in season 2020.
The Northern Rivers duo have been standouts in Football Queensland's top-flight Women's competition for several seasons and for recently appointed coach, Alex Bundalo, their signing is central to building a squad that can challenge the best teams in 2020 and for the club moving forward.
According to Bundalo, "both girls are of exemplary character and great role models."
"They are loyal club people who always give 110% effort for the club shirt and their teammates and they are the type of players that every successful team need as a nucleus."
"In my opinion Ellie is W-league quality who just keeps getting better all the time."
"She's tall, athletic and dynamic, a non-compromising rock solid centre back who reads the game very well and can distribute the ball equally as well."
"Dee is a powerful, super-fast attacking goal-scorer who is very difficult to contain."
"Watching her in full flight, when she opens up the throttle, is a sight to behold. And her bubbly personality and positive attitude is infectious."
Fryer and Thompson joined Gold Coast United from Souths at the beginning of the 2018 season but unfortunate injuries saw them have limited involvement that season. But focused rehab and determination to get back to their best brought reward in 2019.
Ellie captained the club to an impressive third placed league finish, a rock at the back. The central defender was recognized for her contribution taking out the 2019 Women's Player of the Year award and earning a well deserved place in FQ's NPLW Team of the Season.
Dee returned to her potent best in 2019 scoring 18 league goals and taking out the Women's Golden Boot.
Both are products of the Northern Rivers – Fryer from Alstonville and Thompson from Mullumbimby – and the pair have led the way for players from the Far North Coast region to test themselves in Queensland's top-flight Women's competition.
For Fryer the opportunity to continue her association with the club is an honor.
"I'm really happy to have re-signed," Ellie confirmed.
"It was a positive back end to season 2019, the girls pulled together and gelled really well."
"It was certainly good to be around, with Midge and Alex really challenging us to strive to be the best we could be."
Thompson credits the turnaround in form and vibe to one simple thing, "we rediscovered our love for the game."
"And that was down to Alex and Craig and their belief in us as a squad and as individuals."
Looking to take her game to new heights in 2020, Deeanna is also pleased to have committed to the club, grateful for the chance to play a full season under new coach Alex Bundalo.
"It's fantastic that Alex is in charge next season, we're buzzing already."
"He's a great coach but also a good person who genuinely cares about our football development and about us as individuals."
"Technically I learned so much more about the game this season and I know that there's more to learn, for myself and as a squad."
As for Bundalo, he's delighted to have locked in the pair and is excited about building on the success of 2019 around this dynamic duo.
"We are very, very fortunate as a club to have two such awesome players and amazing young women on-board, players and people that our junior girls can aspire to be like."
"Bring on 2020!"