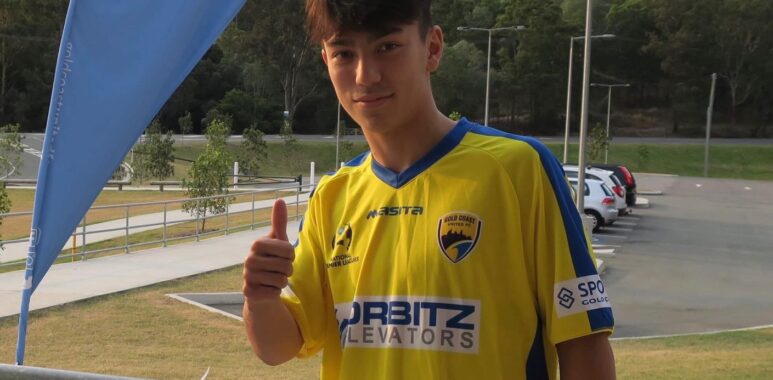 Euan Thum-Davidson commits to Gold Coast United
Another young player is given their chance to impress with Euan Thum-Davidson signed to the Gold Coast United Men's squad for season 2020.
United coach Kristian Rees continues to show confidence in the next generation of footballers, giving Thum-Davidson his opportunity to show his wares on the senior stage.
"Euan's an exciting prospect." Rees confirmed.
"He's got all of the qualities needed to play at this level and beyond.
He's quick, reads the game well and has a sweet left peg, and that's a rarity in the game these days."
"If he's prepared to work hard, I think he's in the right environment to progress."
After a 2019 season that showcased the incredible talent in the youth Men's ranks at the club, Rees is unwavering in his support of giving young players with the right attitude and desire a go.
"Developing young talent is a key to our club's future."
"We've got a good platform established, we need to remain focused on building upon that and players like Euan are a key element in that."
Originally from Sydney, Thum-Davidson's spent a season at the Gold Coast Knights before agreeing to make the switch to United. While the left back is very familiar with the rigors of the National Premier Leagues, having chalked up over 50 junior appearances for Marconi Stallions and the Blacktown Spartans, the defender is keen to make his mark at the senior level in 2020.
At just 19, the challenge of stepping up to the senior ranks is a little daunting for Euan, but it's something he's ready to take on.
"I'm looking forward to being a part of the senior squad."
"Kristian's spoken to me at length about how he wants me to play, which I like the sound of."
"Being in an encouraging environment, working with experienced coaches who know the game well and training and playing alongside players with lots of experience is only going to benefit me, I'm ready!"
Thum-Davidson won't have long to wait long with the Men's pre-season on the doorstep.
Congratulations Euan and welcome to Gold Coast United!