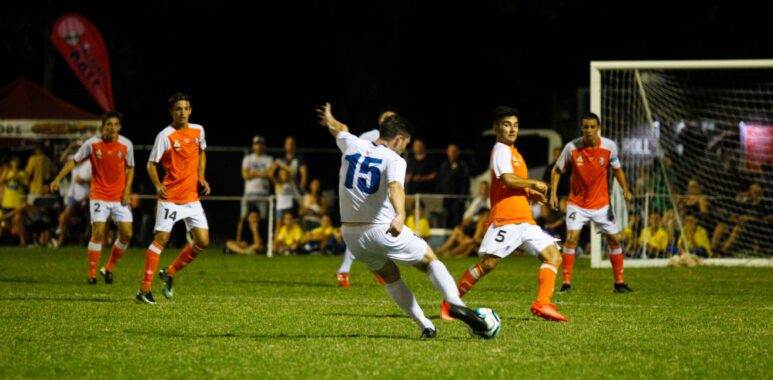 Expansion Plans still on United Agenda!
Brandon Reeves unloads for Gold Coast United against Brisbane Roar in Rd2 of the 2018 NPL competition (Brian Usher)
Gold Coast United congratulates the two consortiums from Sydney and Melbourne chosen as part of Football Federation Australia's A-League expansion plans. Congratulations also to the FFA for taking the step to expand the competition.
There were few surprises that clubs from two of the country's largest 'football' target markets were added to the competition with Greg O' Rourke, head of the FFA, confirming that the decision was hinged on the ability to create more derbies to fill stadiums.
Chairman of Gold Coast United, Danny Maher, welcomed the confirmation by FFA Chairman Chris Nikou that the announcement is just the start of the journey, leaving the door open for future expansion of the both the A-League and W-Leagues and the possible introduction of a B-League.
According to Maher, "we were grateful that the FFA informed us early on that the Gold Coast was not a geography being considered in this round."
"Given Gold Coast United was the only bid in Queensland that met all the criteria for season 2019 it was quite clear at that point that Sydney and Melbourne were the destinations for the new licenses."
With the FFA still 'eyeing off' more potential derby hot-spots, Maher was quick to acknowledge the importance and significance of the local M1 derby between Gold Coast United and the Brisbane Roar, which has been recently been rekindled with the clubs now doing battle in the National Premier Leagues Queensland competition.
"We had over 2000 people attend the United v Roar NPL game in 2018. Robina was packed, the atmosphere was electric.
"The south-east corner of Queensland is a prime target area for future FFA expansion plans."
"There are over eighteen thousand registered players on the Gold Coast and Northern Rivers and the Gold Coast is the largest city in Australia without an A-League licence."
"The Brisbane Roar are the only A-League team in Queensland and we are ready to bring back the M1 Derby."
Maher went on to confirm how the Gold Coast's bid surprised the FFA.
"Less than one year ago we brought back Gold Coast United with a statement of bringing back the A-League and within 3 months we'd mobilised $30 million through an international football group and put together an A-League bid."
"Our process has just begun and we are extremely well positioned.
"With our new first-class Academy facilities at Coplicks, our alliance with the Bond Institute of Health and Sport (the old Titans High Performance Centre), with a $160 million stadium and the backing of an international football group together with local business and community, we are ready to go."