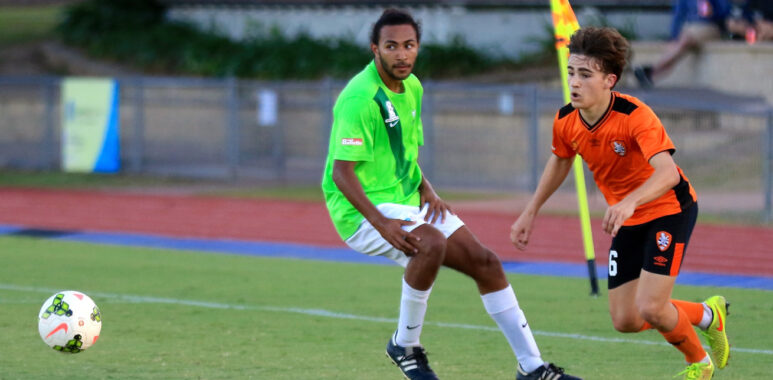 Miller added to United squad
Tom Miller links with Gold Coast United
Kristian Rees has strengthened his attacking options adding the talented Tom Miller to the United Men's squad.
Miller joins the club after a season with the Palm Beach club in the local Gold Coast Premier League but is no stranger to the National Premier Leagues competition.
After progressing through the Sharks' NPL academy ranks, a young Tom Miller linked with the Brisbane Roar – QAS NPL squad making 15 top-flight appearances for the Brisbane based outfit before heading back down the M1 and joining Gold Coast City in 2017.
Another product of the Northern Rivers, Miller (20) began his football at Lismore Workers before progressing into Football Far North Coast representative sides. Tom also spent some time at Ballina Southern Cross School (now Ballina Coast High) and represented Far North Coast in the State PSSA finals before a move north in 2013 saw his NPL journey begin.
A rejuvenated Miller is looking forward to testing himself again at this level and is attracted by the chance to train and play with some quality, experienced players.
"The opportunity to grow with a relatively new club is always exciting. There's really great people here all determined to achieve success," Miller confirmed.
"Also for a young player like myself, the chance to work with people like Michael Thwaite and Kristian (Rees) is something I'm looking forward to and hopefully I can continue to improve under their guidance."
Rees, who was assistant coach at City when Miller returned from the Brisbane Roar, believes that Miller has what it takes to make an impression on the competition in 2019.
"Tommy, he's an exciting young attacking player who I spent time with at Gold Coast City.
"He has huge potential and after long discussions with him his attitude and mentality is fantastic and he's showing a great work ethic at training.
"If he continues the way he's training he'll have a big impact this season."
Miller will have few issues integrating into the squad, he played with midfielder Jason Campbell at the Sharks in 2018 and knows a lot of the other lads.
" I played with Jason last year and he's a really great mate of mine so the chance to play with him again is great.
"I've also played with Justyn (Mckay) and a few others, who I'm looking forward to playing with again too."
"The general feel around the squad has been great. Everyone has been working hard and taking on all the concepts Kristian has introduced.
"This is a super driven group and when you've got hunger for success anything is possible."
Personal goals are simple for the live-wire attacker.  
"I want to be able to influence games in one way or another. Whether it be with a goal, an assist or being positive and creating opportunities.
"If I can do that this year, then I'll be happy.
"I want to help the team be competitive in all games and hopefully the results will come off the back of that. We've got a really good group here so we should be setting our goals high, both individually and as a team."
An intra-club trial this coming weekend will be the first chance for Miller to impress before a well deserved Christmas break and some tough competition in the Inter City Cup before season kick-off on the 2nd of February.