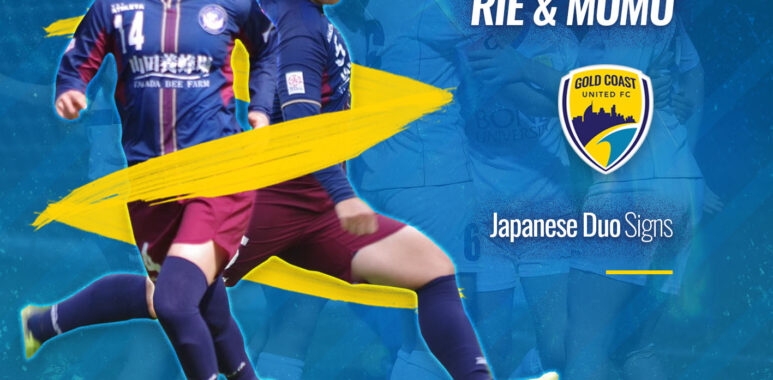 Japanese Duo Joins United
Michael Cook has added more international flavor to the Gold Coast United Women's squad with the addition of a quality Japanese duo to bolster his 2019 contingent.
With the squad already brimming with exceptional local talent, Momo Hayashi and Rie Kitano arrive in Australia in January ahead of the Women's National Premier Leagues season start in early February.
Cook used his extensive connections in Japan to scour the top leagues for the right players to bring 'down under' and he has no doubt that Momo and Rie fit the bill.
"I'm delighted to announce that Rie and Momo are joining United for the 2019 season," Cook confirmed.
"Rie comes from one of the top leagues in the world, the Nadeshiko League in Japan and brings great quality and pedigree to the squad.
"Her experience will add calm and composure to the midfield and the players around her will benefit enormously from her presence.
"She's blessed with exceptional technical ability and a great range of passing, she'll help us both maintain possession and penetrate the opposition when the time is right."
The 26 year old mid-fielder played alongside Momo Hayashi at Okayama Yunogo Belle, a club based in Mimasaka, that currently competes in the Japanese Women's second division.
Rie is a graduate of the Kamimura Gakuen (Junior High) representing Kagoshima Prefecture in the National Sports Championships before attending Nippon Sports Science University.
Cook is also excited to sign fellow Japanese player, Momo Hayashi.
"Momo is a wonderful addition to the squad."
"The signing of Rie Kitano was the key in securing Momo's signature, the two of them having just completed the Nadeshiko League season playing together."
"Bringing in two great internationals from the same club is a real coup for United, it will help with continuity and integrating them into the club's playing style."
"Momo is a tenacious central defender, wonderful in 1V1 defensive situations, and dominant in the air.
"With the ball she is very comfortable in possession and can keep the game simple by playing short passes but also has the range to start a quick counter attack by playing pin-point accurate long passes."
Momo attended Kyoto Seika Girls' High School representing the prefecture in the National Sports Championship. A regular in the Nadeshiko League since 2015, Momo played with Speranza Osaka Takatsuki before joining Okayama Yunogo Belle.
For Cook the signing of the Japanese duo rounds out his squad and he's looking forward to their arrival, along with the return of Californian Mackenzie Akins, also due back in Australia from overseas in January.
"With Momo and Rie signed the squad has a very balanced look to it now, and I am excited to be close to having a full roster of players ready for the 2019 season."