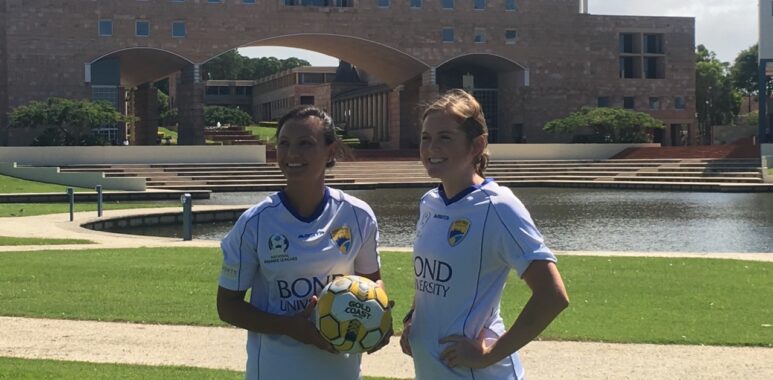 League leaders on Coast radar
Joy Forsyth & Meg McElligott at Bond University
Gold Coast United Women are on the road again this weekend, a Sunday trip up the M1 to face an in-form Souths United, the current leaders of the Queensland National Premier Leagues Women's competition.
Coming off a comprehensive win last weekend United venture to Wakerley Park with some confidence but fully aware of the tough task that awaits.
Right back Joy Forsyth thinks that the squad is ready and growing into the season well.
"In some past games we sort of panicked a little.
"So settling in early , getting a few touches on the ball, staying calm, will really help us."
One of the more experienced players in Michael Cook's squad, Forsyth is impressed by how well the younger players are adapting.
"There are a lot of young girls and they're really stepping up to the plate.
"We've got a great leadership team who are really driving the goals that we have individually & as a team, week in, week out, focusing on getting those goals accomplished every week and those young girls are really following suit."
Once again United will be looking to red-hot Striker Meg McElligott to get amongst the goals. The current leader of the #NPLWQLD goal scoring charts, McElligott is well aware that finding the net will be a lot tougher this week against a quality side like Souths.
"It's definitely going to be a harder game to score in.
"They're a great team. I know a few girls in their squad and the environment there.
"The fact that they have 11 great players is the biggest threat to us.
"But having said that so do we. It's going to be a tough challenge."
McElligott is one of several Coast players who have spent time at Souths, under Coach Gary French.
"When I first moved up to the Coast I played under Gary (French) for 1 year at Palm Beach & for another year at Souths.
"Gary knows how to get the best out of his players, as the ladder suggests."
United Coach Michael Cook is also well aware of the threat that the hosts pose but remains solely focused on his side and is pleased with how well the squad has responded over recent weeks.
"The hard work players have been putting in at training is now turning into  continuity, and the reward is the team is now playing some wonderful football together.
"It's pleasing to see the players getting the reward their hard work deserves."
Sunday's match at Runcorn kicks-off at 6pm.
If you can't make it to the ground follow live updates on Twitter – @gcunitedfc.
Half-time and Full-time scores will be posted to Gold Coast United's Facebook