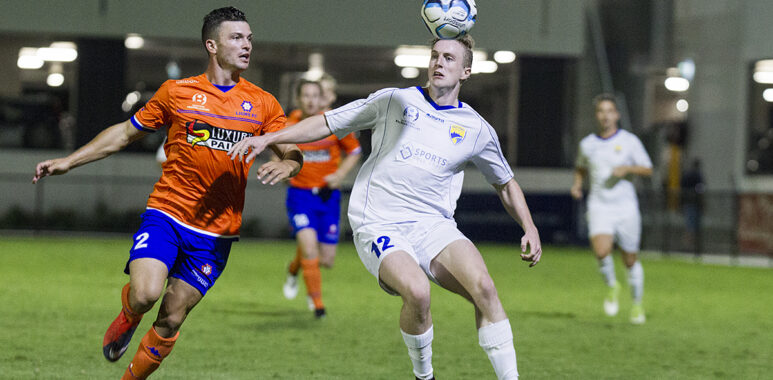 Jack Gates (r) contesting possession (Lions Facebook)
A dramatic end to an entertaining match with Lions scoring in the 90th minute to clinch a 3-2 home win against a gritty United.
Gold Coast United's visit to the 'Lion's den' was hampered by mid-week injuries to regular starters Conor Smith & Uryu Nagata. With Dean Wernerson & Lochie Reus also unavailable it was an opportunity for the squad's depth to be tested.
And tested it was, with Lions hitting the ground running from the first whistle. But the United defence was strong, something Coach Sean Lane was quick to acknowledge post match.
"We we're well organised defensively.
"They came out at a million miles an hour, but we we're very solid at the back. They had a lot of ball but didn't create a lot of chances in the first half."
With very few opportunities at either end it was left to Nick Panetta to break the deadlock with 7 minutes left in the first half. His long range swerving effort deceived Luke Borean in the Lion's goals giving United a 1-0 lead heading into the break.
That lead was short-lived however. It was the home side who hit the ground running in the second half with two goals in quick succession, edging them in front, 2-1.
After the injection of some fresh legs for United, the game opened up. With Luka Zoric standing tall in the Coast's goal to deny Lion's several chances there were several telling United forays at the other end forward putting pressure on the Lion's defence.
When Brandon Reeves rose high to head home an 88' minute equaliser it looked as though United had snuck a point, but this Lion's outfit showed their true colours and a sweeping move down the right left Sean Carlos the chance to win the game, which he took, something that did not please Sean Lane.
"We get back to two all with two minutes to go, and that's where I guess some of our inexperience showed, we didn't see the game out.
"That game management is absolutely critical."
While guttered for his players Lane was pragmatic about his team's performance.
"People tend to forget that this is a brand new, young group.
We were also down four good players tonight. Having said that all of the boys who came into the squad tonight have been waiting patiently for their chance and all did really well.
"Everyone put a proper shift in. I couldn't have asked for any more effort, playing against a very, very good side."
"But you can't get to 88 minutes and allow a team to score an equaliser or winning goal. The top teams don't do that. So it's something we've got to improve on, something we'll work on.
"I'll have a sleep on it, see who's available, who's fit.
"We'll regroup, go again, take the positives out of this performance and head to Moreton Bay next week knowing we can mix it with any side."
Rd11 sees United head to Wolter Park on Saturday, the 21st April, with kick-off at 7pm.
National Premier Leagues Queensland – Round Ten
Lions Stadium, Pine Road, Richlands 
Lions                                  3 (Carlos 52', 90', Alexander 56')
Gold Coast United             2  (Panetta 38', Reeves 88')