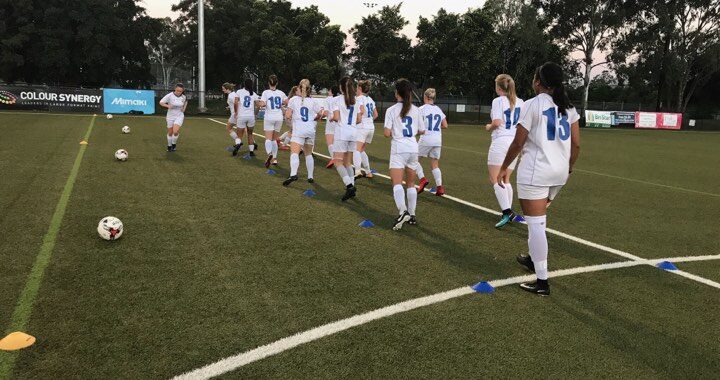 United Fall to League Leaders
Women warm up on the synthetic grass at Wakerley Park (photo Kelly Donnelly)
Gold Coast women succumb to league leaders, Souths United, who reaffirmed their title credentials with a 3-0 win at Wakerley Park.
Bouyed by a strong performance against Western Pride the previous week, United Women travelled to Souths keen to continue their winning ways. Coach Michael Cook named an unchanged line-up for the first time in 2018, a squad still missing key players Ellie Fryer & Dee Thompson.
Souths opened the scoring after a foul in the box drew a penalty and Billie Murphy made no mistake form the spot. Some scourned chances for both teams at either end with the first half score-line remaining 1-0 to the home side.
According to Cook, "we were dominating for the first 15-20 minutes, the first time Souths attack they are awarded a penalty."
"We responded very well and were very much in the contest."
Early after the resumption it was Murphy on the counter for Souths who scored her second and stretched the lead to 2-0.
"Souths are a very good team and once they went two in front it's always going to be a long way back from there," Cook said.
A third goal to the hosts with half an hour left sealed the victory for Souths who stay top of the NPLWQLD ladder.
"All 14 players who took the field for GCU worked incredibly hard.
"Lifting the group to be ready for next week will be the priority this week in training. And knowing the character in the squad, I'm sure we'll be ready for Capalaba next week."
These two sides met in pre-season with United prevailing against the 'doggies' that day. With both Clubs on equal points, this will be a crux game – both keen to climb up the standings.
The Rd11 fixture will be played at John Fredericks Sportsfields next Saturday with kick-off at 7pm.
National Premier Leagues Women, Rd 10
Sunday, April 15, 2018
Wakerley Park, Runcorn
Souths                                3  (Murphy 18', 48' Norrie 62')
Gold Coast United            0