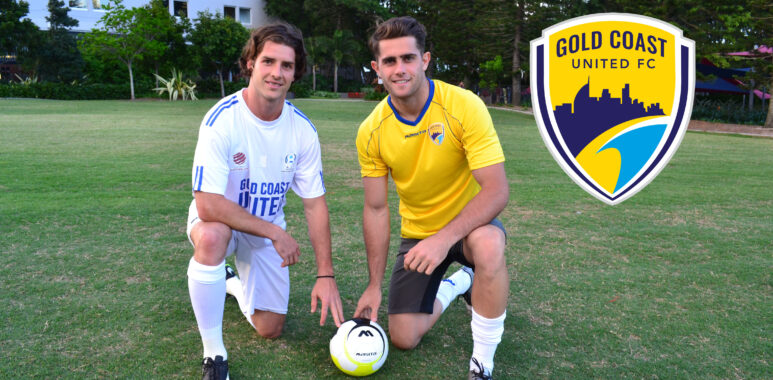 A Little About Our New Men's Signings – Wernerson & Tomic
Recently signed Men's players, Dean Wernerson and Archie Tomic, bring over 30 years of combined football experience to the club. Not quite in the league of head coach, Sean Lane and his assistant Mirko Runje, who together rack up close to 100 years of football experience and knowledge. But in the players' favour is youthful exuberance and what Lane is most impressed by, 'a glint in their eyes!'
The two players join the Club from the local Gold Coast Premier League, with Wernersen playing most recently at Gold Coast Knights and Tomic at Surfers Paradise Apollo SC.
Both players are delighted to sign for GCU, confirming that the challenge of playing at the next level and against the best players in the state, was a key factor in their signings.
Wernerson admits that, 'the decision to leave Knights was a difficult one, but knowing that he'd be playing 'under Lane and alongside the quality of players already signed, made the decision that bit easier'.
The 21 year old centre-back first played football aged 6 at the Nerang Eagles and is excited for the chance to play for Gold Coast United alongside players he has grown up with and played with and against for a long time.
Archie Tomic also started playing at 6. The 28 year old holding midfielder relishes this chance to test his ability on a bigger stage, wanting to push 'his boundaries of performance and make a positive contribution not only in the squad, but at the Club, and to work hard to represent the  Gold Coast football community'.
CEO Troy Bingham was ecstatic with the signings at Royal Pines, acknowledging the importance of offering opportunities to all Gold Coast footballers to test themselves at the more elite level. Bingham has long been an admirer of both players on the pitch but what impresses him the most is 'how both players conduct themselves off the pitch as well'.
Gold Coast United warmly welcomes Dean Wernerson & Archie Tomic to the Club.
Photo credit – ZCG