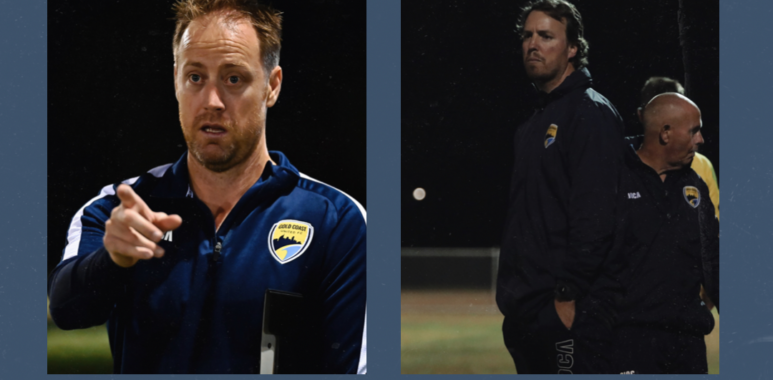 Grae Piddick and Dave Provan will return in season 2022
Grae Piddick and Dave Provan will return in season 2022 looking to build on some promising signs and results in the back end of the 2021 season.
Piddick, one of the most successful coaches in the #NPLQLD era, will look to strengthen his squad in key areas to position the United Men for a good tilt at the breaking into the top half of the table.
"I see no reason why the team can't be pushing into finals contention and I see that as a realistic goal for 2022 and beyond."
"The squad we are building will continue to be a blend of high level quality and experience with some exciting young talent."
"I'm very much looking forward to getting into work ."
Provan, along with Piddick, joined the club in 2021 and is excited about the prospect of building on a strong foundation that was laid during the final third of this season.
According to Provan, "a bit of naivety at times probably cost us in terms of ladder position this season, but despite that, we were well in most games and we showed what we're capable of late on, with a consistent 11 on the pitch."
"2022 is shaping up as one of the most competitive competitions in a long time. There'll be no easy games, so we're looking to take things to another level now that we've established a few expectations and standards within the group."
"The senior players will need to take the bull by the horns, week in, week out, and show a level of consistency. And we're expecting the younger players to raise another gear and establish themselves as genuine NPL players."
"If they can all do that, we'll be right in the mix."
The duo have established a close working relationship sharing similar footballing philosophies and ambitions.
"It's been great working with Grae," Provan confirmed.
"He's a very thorough coach who obviously still has the hunger to win."
"We see things similarly, yet have the relationship to be able to push and challenge each other occasionally along the way. He's also got decent banter believe it or not!"
Piddick appreciates what Provan brought to the table in 2021.
"He contributed greatly to the senior team this season and I'm pleased he's continuing in his role again next year."
"He brings fantastic football knowledge along with a real focus on building team mentality and culture that will benefit the club in our goal to continuously improve our standards moving forward."
Stay tuned for 2022 Men's signing news, coming soon!