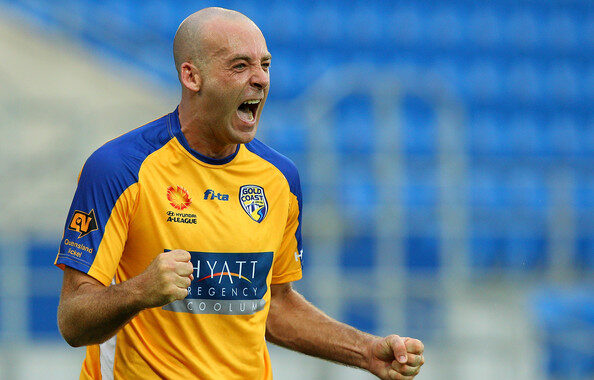 Rees to guide United in 2019
Kristian Rees in his Gold Coast United playing days
Gold Coast United is very excited to confirm the appointment of former Gold Coast United A-League player Kristian Rees as Men's head coach for season 2019.
Rees' appointment tips the hat to the recent past and castes a discerning eye to the future, affirmation of the Club's focus on offering playing and coaching opportunities to the brightest prospects on the Gold Coast.
Following a senior footballing career that spanned more than 17 years, including more than 140 A-league appearances, Rees turned his attentions to coaching in 2016 and returns to a Club he played for with distinction for his first Senior coaching role.
"It's great to be linking up with my former club and I'm excited about the challenge ahead," Rees confirmed.
"I believe the way this United has been set up is a great model. Part of the Club's aim is to engage local clubs as well as promote Gold Coast juniors.
"My views are well and truly aligned with that."
For United's Technical Director, Craig Midgley, the chance to work with Rees and flesh out United's football plan with someone with recent professional playing experience adds depth to the systems already in place at the Club
"Kristian is a young coach who has assisted at this level for a few years and is now ready to take the reins and step up to a head coach role. He stood out to me on the PFA B License that I instructed on last year. He is very good with people and will be able to manage players well.
"Having recently played the game professionally he has a strong network to the modern game and huge respect among his peers.
"These qualities are part of the reason the Club thinks he will be right person to take the club forward."
A South Australia by birth, Kristian played his early football in Adelaide, making his NSL debut for Adelaide City in 2000 before linking with Adelaide United in its inaugural season in the A-League, the premiership winning side of 2005/06.  In 2008 Rees signed a two year contract with Gold Coast United where he earned a reputation as being tough and dependable, safe and secure in his own penalty area and a constant threat at the other end from corners and free-kicks.
Following the exit of United from the A-League, Rees 'retired' from professional football before being lured back to the fold to play for Palm Beach in the National Premier Leagues Queensland competition by then coach Grae Piddick. That union yielded a premiership championship double for the Sharks. A change of role in the dugout followed, joining Piddick as assistant coach for Gold Coast City before a cross town coaching move to the Gold Coast Knights in late 2017.
"I've played football since I was 7 years old and it's something I'm very passionate about.
"Playing as a centreback throughout my career I feel you need to develop a good understanding for the game as well as organise players around you.
"Getting towards the end of my career I really found it exciting to see footballers developing their potential at a young age and I decided to use my experience to help these footballers improve."
"This will be my first senior coaching role and I cherish the opportunity."
Having recently completed his FFA B licence and about to undertake his A licence, Rees acknowledges the importance of the time spent alongside Piddick at both Gold Coast City and local NPL rivals in 2019, the Knights. During his playing career Rees also played under several coaches who have had a big impact on his coaching style and philosophy including Zoran Matic and John Kosmina.
"Zoran taught me so much about the intricate details of defending and had an unbelievable work ethic.
"He also had a big focus on playing together as a team with a game plan as opposed to playing as individuals. Values which I strongly believe in today."
"With Kossie I learnt a lot about mental strength and focusing aggression. He has a great ability to read a game and with Adelaide United we had some great success in the first two years of the A League."
"Both coaches were different but I cherish the things I learnt from them and If I can pass on just a small amount of what I've learnt it would help a lot of young players."
Rees is under no illusions about the challenges ahead knowing that the experience learned during his playing days and his time as an assistant see him well placed for the rigors of the dugout.
"Organisation, preparation, discipline are some key attributes I believe are necessary for good coaching.
"Having the ability to read players mentality and focus to get the best results from them also plays a big part."
Armed with intimate knowledge of both the Gold Coast NPL & Premier League scenes, Rees is well aware that getting the right balance of experience and youth will be an essential ingredient in being competitive in season 2019.
"It's important to have a balance of experience and youth in any team.
"There'll be a small re-building phase at United however there's definitely some great young talent within the current squad who'll be given the opportunity to push for spots in the first team.
"There's also some great young players around locally and they need to be given the opportunity to push to another level too."
"In the short term I'll be looking to develop a young competitive team focused on playing good attacking football to achieve results.
"If you want to see entertaining attacking football get down to support Gold Coast United in 2019!"
Rees' first priority will involve becoming familiar with the football department, his fellow coaches and assembling his support staff, before he sets about the task of bringing together a United squad to lead into season 2019.