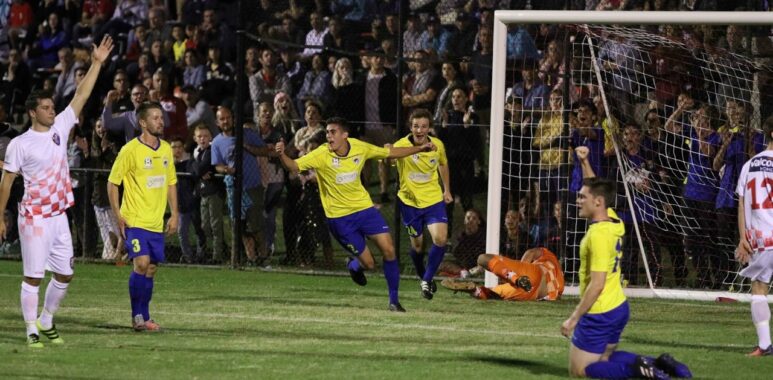 United look to build on 2018
Goal celebration from earlier in the season (Sportspics)
Gold Coast United Men played out a scoreless draw in their final match for season 2018 against the Sunshine Coast Fire at Kawana yesterday.
A point from this match sees the Men finish 10th on the NPL ladder in the Club's re-entry into Men's elite competitive football.
In a season cruelled by injury and a subsequent lack of consistency, the United squad and coaching staff have worked hard to ensure the Club gets another crack at the National Premier Leagues in 2019.
According to departing Men's Coach, Sean Lane, "with our best players fit and on the park we found ourselves able to compete with any team in the NPL and I'm pleased with that – especially for a new group of players."
Two draws against second placed Olympic FC – home and away – and a rousing performance that pushed the premiers, Lions FC, at Richlands demonstrated the competitiveness of the 'top' United starting eleven when on the park. But the loss of some key personnel to injury and mid-season departures saw the experienced back-bone of the squad depleted and its youthful inexperience exposed at this level particularly late in the campaign.
As Lane pointed out, "we lost numerous key players to injury which saw us unable to field the same starting eleven week to week."
"I'm really proud of how the group stuck to task and got the results needed.
"They'll learn a lot from the season and be better players and people for it."
Having called on over 40 players in its first season, many getting their first taste of Senior NPL football, United are keen to build on 2018. The Club has already turned its attentions to season 2019 and its focus on youth progression and development.
United Chairman Danny Maher praised the energy and professionalism Lane has brought to the role.
"Sean has been a wonderful professional for our club during our first year in the National Premier Leagues and his experience has helped us enormously.
"We continue in to next season with our youth focus building on the foundation laid by Sean."
With Lane not at the helm in 2019 the search for a replacement Coach is well underway. An announcement of a replacement is touted as being imminent.
.
National Premier Leagues, Rd 26
Saturday, August 25, 2018
Kawana Sports Precinct
Sunshine Coast Fire              0 
Gold Coast United                 0