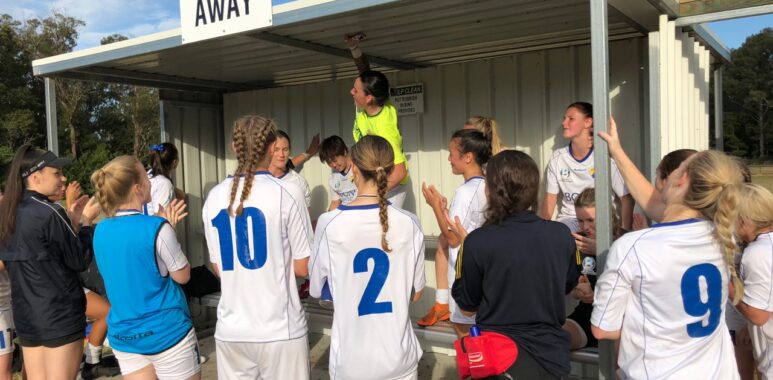 All wins are sweet, especially away and in the final game for the season! (Kelly Donnelly)
A 2-0 victory on the road for the Women against Sunshine Coast Wanderers yesterday capped off a strong second half of United's first involvement in Queensland's National Premier Leagues Women's competition. A goal in either half and a favourable result elsewhere ensured a sixth place finish.
Mackenzie Akins lifted her season tally to 25 goals (in 26 matches) when she opened the scoring early. Reiri Ono brought up her fifth goal of her cameo campaign late on.
United's Coach, Michael Cook, was full of praise for how his squad stuck to task to eke out a result yesterday.
"This match was a great example of needing to win ugly.
"Without the ball we were very good today. Every player adhered to our structure and our pressing and winning possession was terrific the whole match."
"With the ball we were a little sloppy with our passing and we turned the ball over too easily.
"But we still found a way to win and I couldn't ask for more effort and character from all of the players."
In a season impacted by the loss of some key players to injury and some high-profile departures, it was Cook's core of remaining, experienced players who steered the ship and help guide and get the best out of the younger players, a lot in their debut seasons in Women's senior football.
"I am so proud of this largely young and inexperienced team to end the season in 6th place.
"Neesa, Joy and Kenzie were huge throughout the campaign, and a special mention also to our vice-captain, Eloise Fryer, who was ever present, offering support to the squad even though she suffered a season ending injury very early in the year.
"Cassie and Reiri made a big difference when they joined us too."
"We have a terrific platform for next season and I can't wait to help guide this team to bigger and better things."
A well deserved break now for the Women, a fitting reward for what was a very solid first season at this level, with Cook expected to start assembling his 2019 squad in November following Senior trials.
Women's National Premier Leagues, Rd 26
Saturday, August 25, 2018
Ballinger Park, Buderim
Sunshine Coast Wanderers              0 
Gold Coast United                             2 (Akins 13' Ono 87')