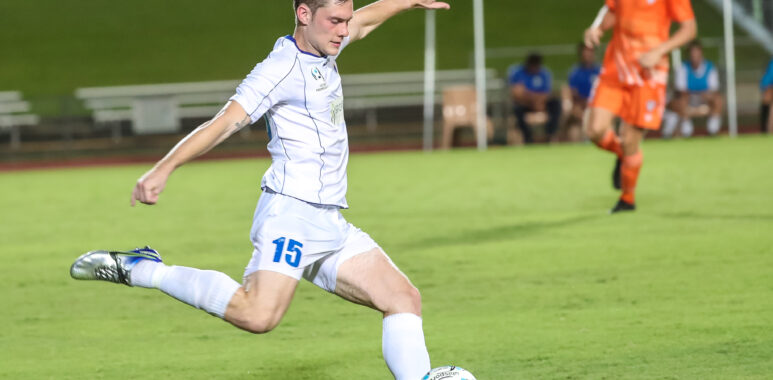 Reeves signing a boost up front!
Brandon Reeves in action against Cairns (Pine Creek Pictures)
Kristian Rees has confirmed the re-signing of the club's 2018 leading goalscorer Brandon Reeves as part of his squad for the 2019 National Premier Leagues Queensland competition.
Reeves, who joined the club from South Australia, bagged 10 goals in 2018 from 21 appearances including some early appearances in the backs, a position he once preferred. Rees believes that the 'no-nonsense' player could be a revelation up-front for his team in 2019 after watching several of his 2018 season performances.
"I'm very excited to have signed Brandon," Rees confirmed.
"He trained with Gold Coast City two years ago and unfortunately he didn't sign then but I could see he had some great qualities.
"On seeing him last year I could see he had a huge desire to score and he's very aggressive in his approach, so I'm expecting big things from Brandon this year."
Brandon (23) started his football journey as a 5 year old with Elizabeth Downs before progressing through to the senior ranks as a 16 year old with Adelaide Raiders then with Adelaide United youth and most recently the Sturt Lions. Reeves is now well settled on the Gold Coast and is pumped to have re-signed for United.
"I've resigned as I believe the club is moving forward with good intentions, bringing in A-league standards and experience with the likes of Kristian Rees for coaching and Micheal Thwaite is a massive boost."
"The 2018 season was a bit of a roller coast ride, we had good moments and moments that were not so good.
"All and all I enjoyed my first season and it was a bonus getting top goal scorer."
Scoring goals is in the blood for Reeves, his father Tony was a renowned striker back in the day, something Kristian Rees can attest to.
"It's funny the football circles, I marked his Dad Tony when I first broke in to the first team playing in Adelaide as a 19 year old.
"Tony was a great striker and had a good reputation as a goal scorer in South Australia.
"It would be excellent to see Brandon do the same on the Gold Coast and Queensland."
Brandon is not burdening himself with any goal target, he's focused foremost on preparing well for the competition's start early February.
Accoring to Reeves, "a club like United needs to be making finals year in year out, so personally I just want to do my part, contribute as much as I can to the team and bang in some goals when I get the chance."
Reeves joins Conor Smith as part of Rees' up-front attacking arsenal with his early attentions set on assembling a core of solid defensive minded players. Midfielders Justyn Mckay and Jason Campbell add attacking variety with Mckay renowned for a killer ball that sets many attacks in train and Campbell is certainly not afraid to venture into the attacking third. Rees has also confirmed that he has some wide attackers in his sights, with further announcements pending.