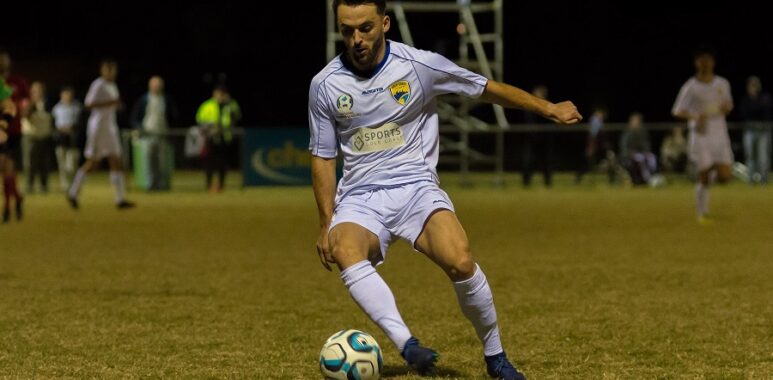 Conor Smith, Gold Coast United's Men's 2018 Player of the Year, returns in 2019 (Andrew Hudson Sports Photography)
Young Englishman, Conor Smith, is the latest to put pen to paper, officially re-signing today for Gold Coast United FC.
After a strong debut season in the National Premier Leagues Queensland competition, the affable 'Evertonian' is looking to improve on his 2018 and believes the squad being assembled by Kristian Rees has the potential to do just that.
According to Smith, "it was a difficult year for both myself and the Men's squad this season if I'm being honest,"
"For me adjusting to a new country, a new competition took a while. And for the lads the going wasn't easy at times but we're all the better for that."
With visa issues delaying his start in 2018 and an unfortunate 'training' match injury mid-season interrupting his year, Smith is ahead of the game having adjusted to the Gold Coast lifestyle and now aware of the standard of the competition.
"I love the Coast, it's such a great place to live and football wise the NPL's a top comp, with some real quality teams and hard matches every week."
"We've had a few runs together as a squad with Kristian and there's some real quality among the group.
"And with Thwaitey, Justyn and Oskar already signed, the foundation looks sound and I can't wait to play alongside those three, their quality players."
Smith was one of the shining lights in United's 2018 season. The creative midfielder showed enough for new coach Kristian Rees to include him as central to his plans for 2019. The 21 year old took out the club's Senior Men's player of the year award, bagged several cracking goals and was a key contributor both on the pitch and in the dressing room.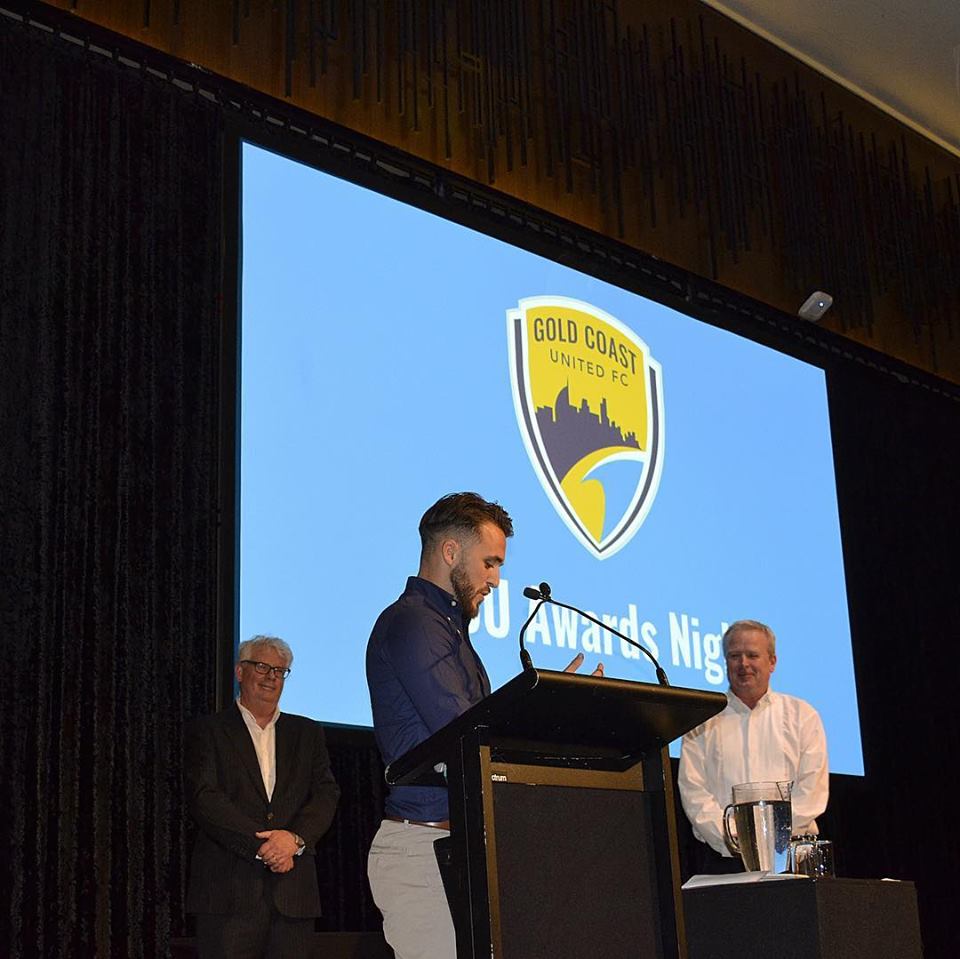 Conor Smith, flanked by Geoff Smith (Chairman – Sports Gold Coast) and Danny Maher (Chairman – Gold Coast United FC) at the 2018 Awards night
"I'm excited to have Conor sign on for the upcoming season," Rees confirmed.
"He was a standout player for GCU last season and with the application and work rate he's applying at training I'm expecting big things from him in 2019."
"Even at his young age he displays great leadership qualities and all the boys have warmed to him."
With his 2019 season plans bedded down Smith jets back to the UK shortly to spend some time with his family and friends before returning to the intensity of a summer pre-season. But that holds little concerns for Smith who is eager to get amongst it.
"There's a real buzz around the club at the moment, the new training facility is great and there's some new faces around the place all raring to go.
"I'm so looking forward to getting underway. Bring it on I say."
It's great to have you back on board Conor!