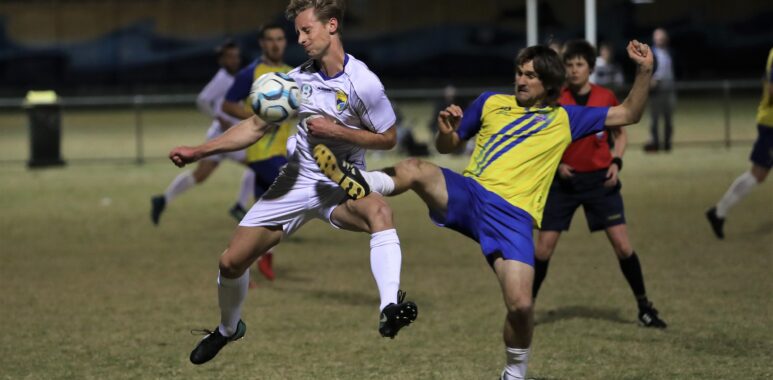 Strikers too good for United
Austin Ludwik (GCU) and Greig Henslee in action (Craig Clifford @sportspics)
A clinical Brisbane Strikers outclassed Gold Coast United running out comfortable 4-0 winners at Station Reserve on Saturday night.
The home side were looking to bounce back from consecutive losses but instead slumped to their third defeat in a row by hefty margins.
Things started poorly for United falling behind early courtesy to a fantastic strike from Michael Lee. That lead was doubled by another piece of individual skill and a calm finish from Rhys Meredith. Two nil to the visitors at half time.
United started the second half brightly but failed to capitalise on their chances which proved costly as a quick-fire double from Trent Clulow all but sealed the match for Strikers with half an hour left.
The match was marred by three late red cards with frustrations getting the better of the hosts.
Brisbane Strikers Coach Owen Baker was happy with the way his team performed, as their push for the top four remained on track.
"We knew it was going to be tough coming down here.
"To score four goals and get the points obviously we are very happy."
United 's Sean Lane was disappointed with the result but praised his side's effort.
"Can't fault the boys for their effort. Everyone put a massive shift in.
"Ludwick had a great debut and deserved more for the effort that he put in. Dean Wernerson had his best game of the year."
"But we can't give a good team three goals and expect to win games."
It gets no easier for United with a next-up trip to Brisbane to face in-form title contenders Olympic FC.
Lane knows what to expect at Goodwin Park.
"We drew 2-2 with them earlier in the year and we'll prepare no differently and go there looking to win the game.
"On our day if we can keep 11 players on the pitch we are capable of winning games."
National Premier Leagues, Rd 18
Saturday, June 23, 2018
Station Reserve, Robina
Gold Coast United              0 
Brisbane Strikers FC         4  (Lee 3', Meredith 15', Clulow 58' 60')