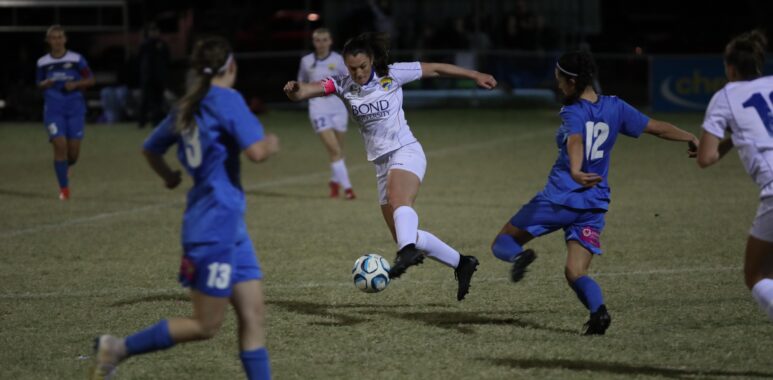 Neesa Doyle glides through the SWQ defence (Craig Clifford Sportspics)
After a lacklustre first 20 minutes where Thunder took a deserved early lead, it was all one-way traffic at Station Reserve, United simply too slick running out 11-2 winners against SWQ.
United demonstrated some sublime combination play, crisp, accurate passing throughout the team, with some moves sweeping the length of the field.
Michael Cook, United Coach, was ecstatic with his side's focus and ability to replicate the form they showed the week earlier to upset Moreton Bay away.
"In the second half especially all aspects of our game came together tonight.
"The only concern was our slow start, we still need to learn to be at our best for 90 minutes.
"But for the majority of the match we were superb."
A true team effort was capped by a widespread of goal-scorers. Mackenzie Akins bagged four, her best return for season 2018 including a few stunning strikes. McElligott and Elliston both scored a brace. A goal from the penalty spot for skipper Neesa Doyle and well deserved goals to the tireless Teleya Reynolds and the hard working Lara Byfield, her first Senior Women's goal bringing much celebration.
Cook knows too well that you're only as good as your next game, a local derby against Mudgeeraba next Sunday at Sid Bigg Park. The two sides shared the spoils earlier in the year but Michael Cook is confident his side has developed well since then.
"Looking forward the focus will be to maintain momentum and work hard this week in training so we can be even better next week."
Women's National Premier Leagues , Rd 18
Sunday, June 24, 2018
Station Reserve, Robina                                                   
Gold Coast United                11 (Akins 16' 45' 47' 72', Reynolds 24', Elliston 26' 65', McElligott 40' 64', Byfield 79', Doyle 88')
SWQ Thunder                       2 (Rolfe 4',74')