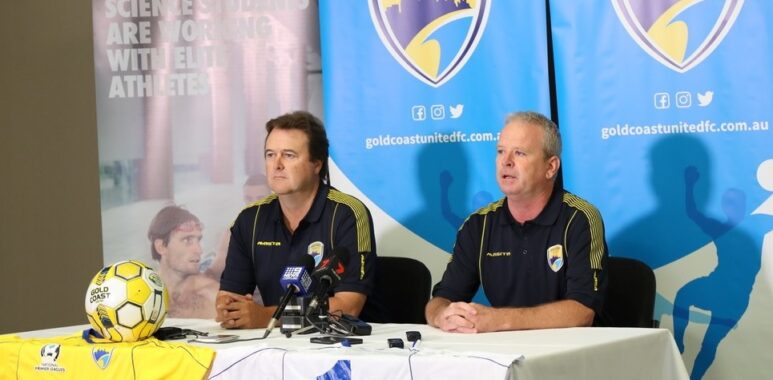 Update on United A-League Expansion Bid
Mark Anderson (Director) and Danny Maher (Chairman) of Gold Coast United
Football Federation Australia has today confirmed that Gold Coast United was not one of the successful bid 'groups' chosen to proceed to the next stage of their A-League expansion process explaining that the bid was extremely strong however the Gold Coast as a geography is not where they want to expand in this phase.
United's Chairman, Danny Maher, expressed disappointment with the FFA's decision.
"Obviously we are disappointed that the football community of the Gold Coast is not going to see A-League and W-League in the region in 2019. Our bid was acknowledged as one of the strongest however the FFA have stated they are interested in the Gold Coast as a geography in the next phase of the expansion, not this current phase. The Gold Coast for now will remain the largest city in Australia without an A-League team."
Gold Coast United had linked up with an international football consortium led by Jordan Gardner and Brett Johnson who had committed AUD$25Million to the expansion.
While Maher believes that United's bid was strong and offered plenty that set it apart from other bidders, the FFA confirmed that geographically the Gold Coast does not fall into their current plans.
According to Maher, "huge steps have been taken to develop a community supported, grass-roots driven club focused on offering the best possible pathways to play football at the highest possible level with links to an extensive and supportive business, school and community club network."
"All the infrastructure is in place, a world class stadium at Robina and a fantastic sports science facility at the Bond University High Performance Centre.
"The Club has also quickly established itself as the top academy in Queensland with the highest results across all junior age groups."
Maher believes that a massive opportunity has been missed with the financial support of American investors Brett Johnson and Jordan Gardner seeing the possible establishment of another global football group in Australia squandered.
"Our backers were willing to invest – i.e. lose –  25 million dollars into football in Australia. That's a huge missed opportunity, not only for the Gold Coast but for football in this country.
"For the game to grow there needs to be fresh ideas and international linkages"
The FFA's intention is to announce two new clubs in October which will join the competition in the 2019/20 season.
Gold Coast United will continue to operate in the National Premier Leagues Queensland competition and continue to grow and invest in football in the Gold Coast and Northern Rivers region.
The club will be following up with the FFA in relation to a W-League application and has already been invited in to the second division of the A-League if and when one is established.
Geoff Smith, Chairman of Sports Gold Coast said, "we have made great inroads with the club already and continue to have a long term view on football, any city of our size should have an A-League and W-League club to brand its city but every city has to earn it which can take time".
Rabieh Krayem, Chairman of the Association of Australian Football Clubs said, "we see Gold Coast United as a key club for the football ecosystem in Australia and we think it is unfortunate that the FFA is not ready to expand A-League in that region.
"We encourage Gold Coast United to consider a bid into the 2nd Division when we release the operating model which will help advance their push in to the A-League in the next phase."
Mr Maher concluded by saying "it doesn't stop us, it delays us and hopefully it's a short delay".