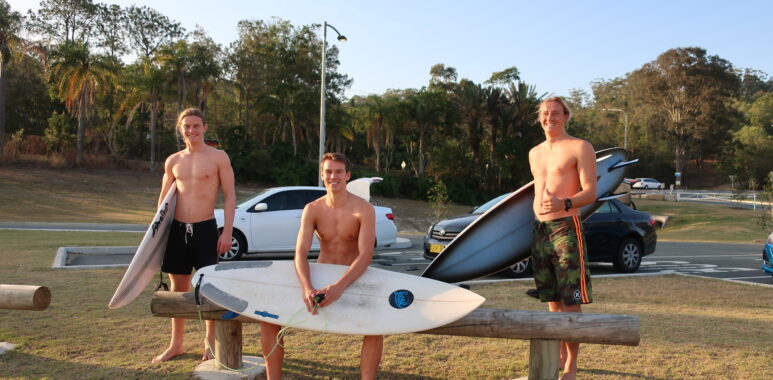 Travis Taylor, Dom Morosini and Ben Lahiff sign for 2020
They'll be swapping their boards and boardies for boots and goals in 2020. Three young local footballers get their chance to impress at the senior level in 2020 with Travis Taylor, Dom Morosini and Ben Lahiff handed Gold Coast United Men's contracts.
For Morosini and Taylor it will be their first stint in the National Premier Leagues competition, while Ben Lahiff returns in 2020 after a 2019 season riddled by injury.
Delighted to see the development pathways at the club taking shape, Men's coach Kristian Rees is excited about what the trio brings to his squad.
"It's brilliant that Dom and Travis have been able to step up from the Youth ranks under John Murphy's guidance in 2019 and grab their chance at this level.
"They showed what they're capable of this season playing with maturity beyond their years."
"All three of these young lads are quality players and young men."
"First and foremost they have the right attitude, they're keen to learn and develop, plus they have the skills and ability to match."
"If they continue to apply themselves and work hard there's every chance that they will be big players for us this season and in the years to come."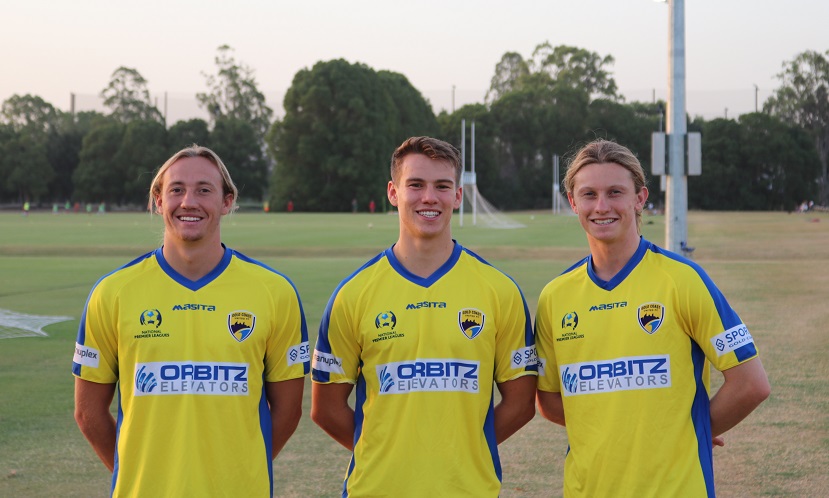 Ben, Dom and Travis are primed for a big 2020
No Gold Coast United team is complete without some fresh faced surfing lads and these three bring a healthy dose of passion, commitment and vibe to Rees' 2020 squad.
Lahiff (21) from Casuarina first played for the Kingscliff Wolves before representing the region as a junior and linking with Gold Coast City NPL. A move further north saw Ben playing first at Strikers and later Souths United. Returning to the Coast in 2019 an unfortunate injury cut short his 2019 season.
"It was a shocking year for me last season, but hopefully I can turn things around in 2020 and keep fit and strong the whole year."
"I'm happy to play left or right wing but to be honest I'm keen just to be part of the squad and to work hard with the other lads to create a good team spirit ahead of the season."
Morosini is another Northern Rivers product who played his junior football in Murwillumbah. After impressing in the U20's in 2019, the defender slotted in to right back during the back end of the season chalking up six appearances for Kristian Rees' squad.
Dom confirmed that it's his, "first senior men's contract and I'm very excited."
"I got a little taste last year and I'm keen to push on."
After a stint in the Brisbane Roar youth academy, the right back feels ready to better tackle the increased intensity at this level.
Taylor is viewed by many as the club's most promising young attacking talent. A natural athlete blessed with a ton of speed and mature game awareness, Travis is "stoked to have signed, it's definitely a goal I've been working towards."
Taylor began his football journey as a 6 year old in Sydney and played at Robina City when the family first moved to the Gold Coast. A move into the National Premier Leagues system at Palm Beach followed where he played under United coaches Shannan Mcluckie and Brad Robinson.
From a talented sporting family, a current topic of household discussion is whether Travis, or his sister Paige, will score more goals for the club in 2020.
"The whole family's been talking about it."
"I think I was ahead at the end last season, so I aim to keep ahead in 2020 as well."
With pre-season training in full swing the trio have been hard at it with an eye on the first round of the 2020 competition set down for the second weekend in February, an away trip to Olympic FC. Before that though they'll have a chance to 'test the legs' in the Silverboot Cup, with most Gold Coast United squads taking part in the tournament run by Lions FC which kicks of early January.
Bring on 2020!