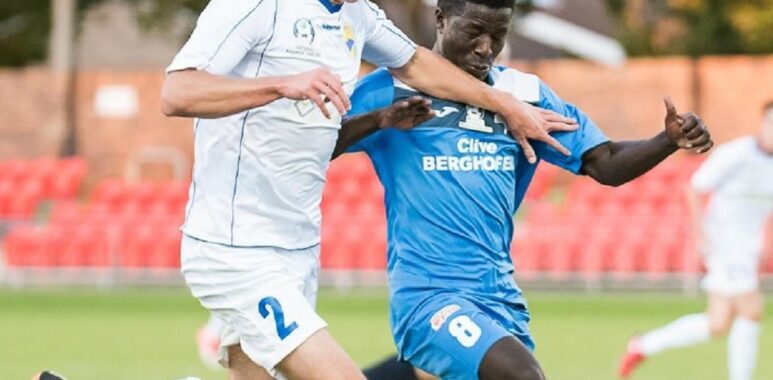 Tyler Wagstaffe holds off Emmauel Philipe (David Lobwein @DSLphotograpy)
United's sixth consecutive away game ended with a win as the Surfsiders proved too strong for SWQ Thunder in Toowoomba.
Hurting from a mid-week FFA Cup exit, United Men headed up the range knowing that the game was a 'must win' against a side yet to register a home victory in season 2018.
Mid-fielder Lochie Reus confirmed prior to the match that recent standout James Coutts, injured in the Cup, was a likely omission, joining fellow 'first teamers', Panetta, Wernerson & Smith in the stands.
"We can't blame injuries for our recent run. We're in the second tier of Australian football and we really need to step up," Reus said.
"Couttsy's been very dominant the last few games. Obviously they haven't gone our way but what has gone our way, Coutts has been a standout."
The visitors opened the scoring early through an unlikely source when right back Tyler Wagstaffe pounced on a loose ball in the box after some confusion in the Thunder defence. Chris Hatfield levelled things up just after the half hour mark before a long range effort by Brandon Reeves saw the Coast go back ahead, 2-1 at half time.
Shortly after the break a goal to left back Lachie Weier extended the lead to 3-1 and United's ability to 'game manage' was put to the test, something Coach Sean Lane had been stressing with his charges following recent performances.
After Tuesday's Cup exit, Lane was left to rue his side's inability to close down matches, letting a 2-1 lead slip against the Knights.
"We've spoken about it (and) they either chose not to or couldn't. If they chose not to it's a problem and if they couldn't that's also a problem," Lane said.
When Toowoomba pulled one back through Edwards soon after Weier's goal, thoughts of another United stumble started to bubble.
But when SWQ's keeper Jacob Sayle brought down a United player in the box, Uryu Nagata made the lead safe, converting from the spot with a half hour left.
The Surfsider's held to record a 4-2 win and will enjoy a break next weekend, a chance to shake off some niggles before welcoming 'cellar dwellers' Sunshine Coast, to Robina, Saturday the 12th of May.
National Premier Leagues, Rd 12
Saturday, April 22, 2018
Clive Berghofer Stadium, Toowoomba
SWQ Thunder                      2  (Hatfield' 33', Edwards 58')
Gold Coast United              4  (Wagstaffe 8', Reeves 38', Weier 53, Nagata 61')