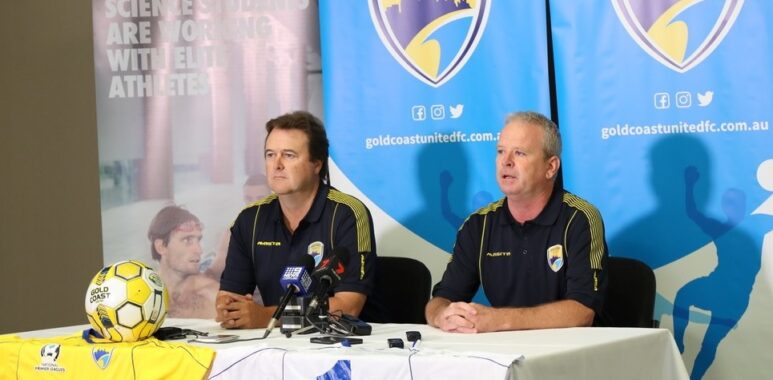 Gold Coast United lodges EOI
Dear Supporters of Gold Coast Football
It is with much pleasure and excitement that Gold Coast United FC confirms that the Club has lodged an Expression of Interest (EOI) to participate in the FFA's expansion plans for the Hyundai A-League.
On the back of the recent success of the Commonwealth Games, the Gold Coast has stamped itself as a world-class sporting location boasting a fantastic climate, modern infrastructure and a welcoming, warm demeanour. With the support of Sports Gold Coast and the backing of both Local and State Governments, the Club believes the Gold Coast is well placed to once again compete in the highest echelon of Australian football.
United Chairman, Danny Maher, has confirmed that the Club's A-League ambitions have the in-principle financial support of two American investors with links to clubs around the world, and that those backers, Brett Johnson and Jordan Gardner, will support the next part of the bid process.
Maher today announced that, "the backing of this bid includes support from local business, government, educational and the wider football community together with an ownership group that has stakes in several clubs throughout Europe and North America and is looking to expand their global reach into the A-League at the Gold Coast."
Johnson is co-chairman of second-tier United States Club, Phoenix Rising, and Gardner is a shareholder in Swansea City. Both men have extensive business associations with other influential and prominent 'football' focused entrepreneurs with stakes in major football clubs.
Gold Coast United has undertaken the necessary steps to perpetuate a pre-eminent standard of quality in football through excellence in coaching that encourages and inspires youth, of all ages and backgrounds, to develop a passion and absolute love for the game.
The focus of growing the game for all has been fostered through partnering with Community Clubs and Schools to support one of the largest junior football participation regions in the country.
Having also aligned with Bond University, with its international standard sports science facilities, the Club is partnering with organisations that share those same intentions of growing the game. The Bond association sees the Club based within the University's High Performance Centre in the shadows of Cbus stadium, a purpose-built stadium ready to host Hyundai A-League home games.
The Club now eagerly awaits notification on the success or otherwise of the lodged EOI with the FFA expected to issue a Request for Proposal (RFP) to shortlisted parties in June. A decision on the expansion of the Hyundai A-League is expected by October 2018 after consideration of more detailed proposals from each of the shortlisted bidders during the RFP stage.