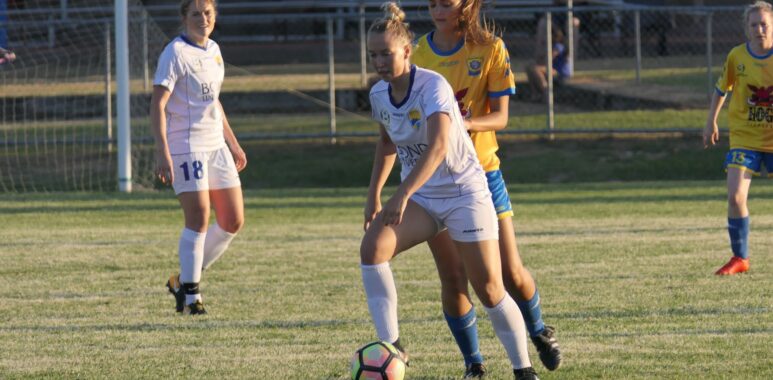 United out to do double over Jets
Deeanna Thompson watched by then GCU attacker, Meg McElligott, now with the Jets (Helen Anderson)
Friendships will be set aside this Sunday when Gold Coast United welcome the Moreton Bay Jets to Robina for their re-scheduled Rd4 match.
The League's leading scorer, Meg McElligott, wore the white of United until Rd18 before linking with the Jets in search of finals football and returns to Station Reserve to face her former side for the first time this weekend.
United's Deeanna Thompson knows the striker better than most, the 'housemates' and long term friends have always played together in the NPLW, first at Palm Beach, then Souths United and linking up again at United in 2018.
"Meg and I are friends off the field, apart from in training we have not played on opposing teams.
"I doubt I'll see a lot of her on the field on Sunday though given we are both high players.
"Regardless the winner takes home the bragging rights …we love the banter!"
As for McElligott, she is "looking forward to a friendly rival match against the old team, obviously I'm hoping the Jets can come away with the win this time."
2018 has been mixed season for Thompson. The classy attacker has seen limited game time due to some leg injuries with only seven appearances and four goals to her credit.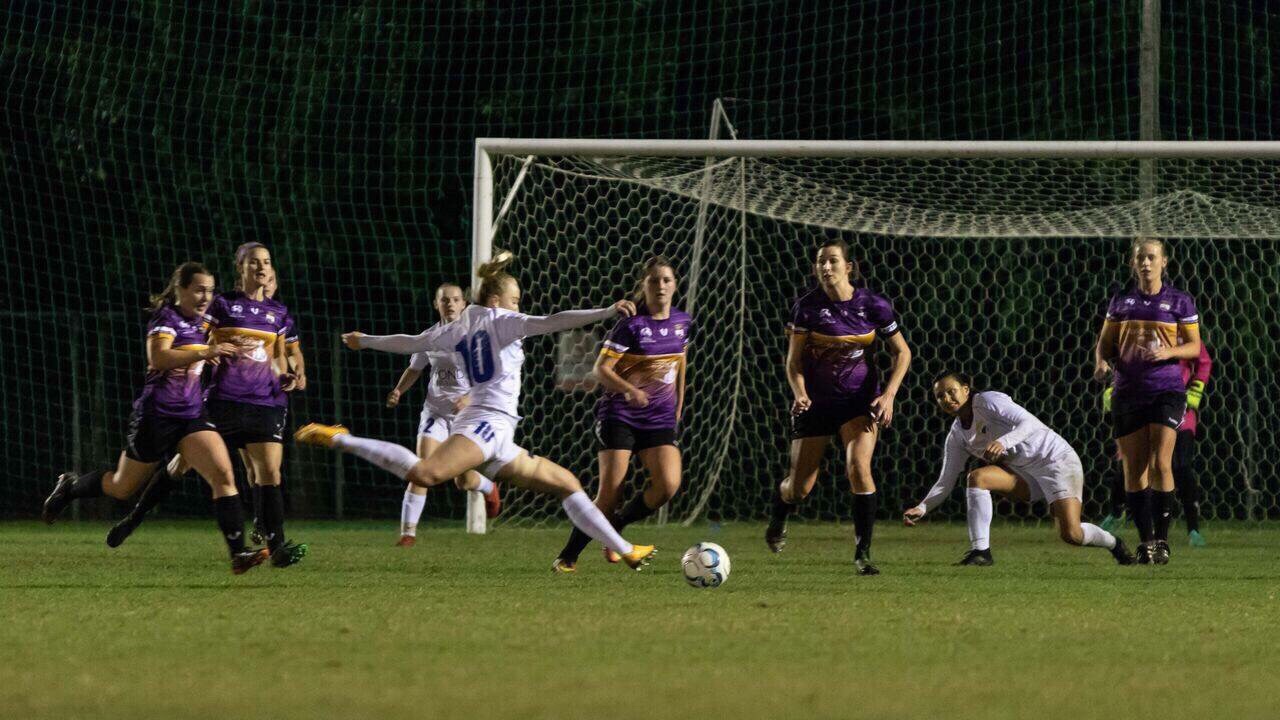 Deeanna Thompson testing her legs against The Gap last weekend (The Gap Facebook)
The Mullumbimby junior always remained upbeat on the sidelines and has worked incredibly hard to return to the game. Keen to walk away from 2018 in a positive frame of mind, Thompson looks forward to finishing the season strong and assisting the squad produce their best football to close out the season.
"My fitness is coming back rapidly. I may not be at 100% but I have come back strong before, I can do it again."
United come into Sunday's game after a heavy loss last weekend against the League leaders The Gap. Coach Michael Cook  has seen no 'hang-over' from that defeat.
"Training has been good this week with all the focus on the games coming up starting with Moreton Bay.
"Having played and beaten them only a few weeks ago, we are very aware of the challenge."
United's gaffer is not overly concerned by the Jets having added to their strength by signing McElligott since they last met.
"The threat she poses is very familiar and our players know what her particular style is."
Dee Thompson too is unconcerned, she knows the character of this squad stands them in good stead for responding well and being at their best for this weekend's clash.
"A loss doesn't determine the team's attitude. We only come back fighting and we are known for that over the season.
"What we have over them is that we have nothing to lose going into this so our girls will come out hard, relaxed and ready to play some good football.
"And no one can argue that we can't compete considering we came off with a win last time."
The GCU women produced an unexpected 2-0 win over Sunday's visitors when the sides met at Wolter Park in Rd17 back in June. Mackenzie Akins opened the scoring that night and McElligott scored United's second.
Thompson is confident that they know enough about how the now Jets striker plays to keep her in check on Sunday.
"Fortunately for us we know how she plays and we can counter it.
"Regardless there's 11 players in a team and you can't rely ever on one player to carry you. Moreton Bay will need more than just Meg to break us down."
On the attacking front Thompson will be looking to link up with Akins and new signing Reiri Ono to upset the Jets at the back and cause some problems themselves.
"Kenzie and I have always linked up well as attackers. Unfortunately I haven't been fit to capitalise on that combination throughout the season.
"The impact of Reiri will hopefully razzzle the Jets defence too."
The match promises to be an open affair with goals a plenty in store. Along with McElligott (40 goals), the Jets are stacked full of classy attackers with the biggest threats likely to include Ali Schaefer (17 goals) and Jazmyn Perrin (12 goals).
United will be looking to Kenzie Akins to add to her 13 goal tally and hoping that Thompson can find the net to keep the banter alive and flowing next week!
Kick off at Robina on Sunday is at 5.30pm.