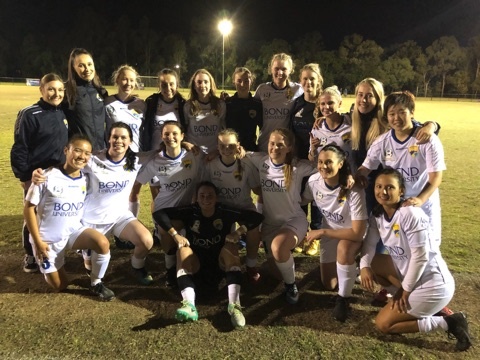 A jubilant winning Women's squad at Cornubia (Kelly Donnelly)
A rousing second half performance from United last night, putting four unanswered second-half goals past Logan to add another scalp to the 2018 season tally.
United started slowly which was to be expected, backing up after Thursday night's match against the Roar NTC. The home side showed up with energy and purpose and grabbed a late lead courtesy of Gabrielle Hein in the shadows of half time.
The break gave United a chance to refocus which paid handsome dividends in the second half as the Women worked their way into the game.
Michael Cook summed things up succinctly post match.
"Understandably, tonight saw us off to a lethargic start, with this being our third game in 6 days.
"We struggled to play with the same fluidity we've shown regularly during the second half of the season.
"After the break we showed that we were the classier team and once we levelled the game at 1-1 the players went on to play very well in the last 20 minutes."
Reiri Ono equalised on 70 minutes and quick fire goals to Georgia Elliston & Phoebe Cave effectively wrapped up the result. Mackenzie Akins fittingly put the cherry on the cake, a late goal reward for another outstanding display from the striker.
Cook was glowing of his praise for the Californian.
"Mackenzie was the heart of the team tonight, demanding more from her team mates when it was required, and encouraging them to be their best. And they responded beautifully.
"Every goal was the product of some very good build up play, the kind of football we have shown that we're capable of often in the second half of the season."
Another highlight was the on-field debut for young forward Amy Langworthy, which continues Cook's focus on 'blooding' emerging talent with an eye on 2019.
"I was delighted to give Amy her senior debut and she contributed to our performance positively during her time on the field."
The win sees United climb to sixth on the #NPLWQLD ladder, a win in next Saturday's final game would cap off a fantastic end to season 2018.
That match against the Sunshine Coast Wanderers at Ballinger Park kicks off at 2pm.
Women's National Premier Leagues , Rd 25
Saturday, August 18, 2018
Cornubia Park Sports Centre, Shailer Park
Logan Lightning       1  (Hein 42')
Gold Coast United    4 (Ono 70', Elliston 73', Cave 77', Akins 84')