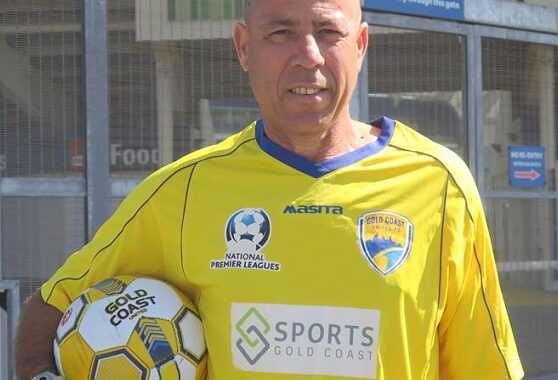 United Keepers in Safe Hands
Fernando Vaz Alves joins Gold Coast United
Gold Coast United has scored a coup ahead of the 2019 National Premier Leagues season signing Fernando Vaz Alves as the Club's goalkeeping coach.
Born in Angola, Vaz Alves spent the majority of his playing career in Portugal but a serious back injury meant a move to coaching for him in his early twenties.
Vaz Alves boasts an impressive Australian coaching CV having worked with several A-League Clubs as well as with the National U20's & U17's squads at the Football Federation Australia's Centre of Excellence. After a long association with the Brisbane Roar, including being a part of two title winning seasons, the goalkeeping mentor ventured to the Institute of Sport in Canberra full-time before returning to the A-League at the Wellington Pheonix .
His involvement in the set-up of Australian national teams spanned over twelve years, honing and developing the skills of the country's brightest goalkeeping talents. After recently settling on the Gold Coast, Fernando was keen to again link and work with the next generation of goalkeeping prospects and is delighted to get that chance at United. Vaz Alves will be heavily involved in United's upcoming trial process, casting an eye over the Coast's next generation of aspiring keepers.
"In the first few weeks I'll be assessing the quality we have available and getting an understanding of the football philosophy at the Club.
"It's a combination of not just me but the whole set up of the Club, including parents and players, that makes a difference and I need to understand that if I'm expecting to help."
"I bring a wealth of knowledge in goalkeeping from the years I've been doing the job.
"I'm very, very fussy and stringent when it comes to technique. I'm a great believer that good technique brings good decisions. Good decisions bring good saves and clean sheets and a winning mentality."
Vaz Alves will be working with the Club's Academy and Senior keepers, male and female, from U13 upwards and aims to engage the more senior keepers to help with developing the younger ones.
"I'll be trying to educate and help the most senior keepers to coach and interact with the younger goalkeepers.
"My idea will be to get the senior goalkeepers from 15 upwards to have sessions with the younger keepers. I'll be present to orientate that."
United's Technical Director of Football, Craig Midgley, is excited by the appointment, which reinforces the Club's focus on linking with the best possible coaches to guide the region's best young footballing talent.
"Fernando is the best in this region and we are delighted to have secured his services. To have someone of his calibre join our coaching group is fantastic.
"All of our goalkeepers at Gold Coast United will have one of the most experienced and qualified coaches in Australia working with them.
"He's worked with some of the best keepers in the country and we are very excited to have him on board."
Midgley is equally as excited for United's affiliate clubs, with plans in place for Alves to also link and work with grassroots clubs in the region.
"Not only will our Gold Coast United goalkeepers get the benefit of working with Fernando but all our affiliate clubs will be able to access his programs moving forward."
If you're a young up and coming goalkeeper looking to improve your skills, register for United's 2019 Academy trials for your chance to be mentored by one of the countries leading goalkeeping coaches.