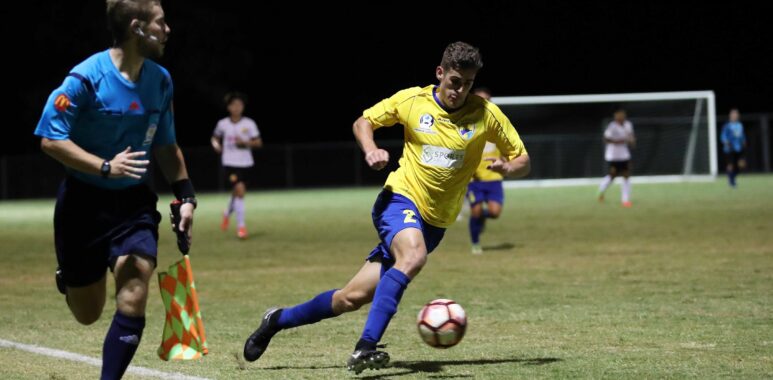 Tyler Wagstaffe has re-signed for Gold Coast United (photo Craig Clifford – Sportspics)
Experienced defender Tyler Wagstaffe is the latest addition to Gold Coast United's 2019 Men's squad, bolstering an already impressive defensive line-up. The 22 year old local has re-signed after a 2018 season interrupted by injury. Now fully fit, Wagstaffe is keen to make a significant contribution is the upcoming National Premier Leagues season.
Wagstaffe played his junior football with Palm Beach Sharks before entering the Gold Coast rep system as an eleven year old. The attacking minded defender, renowned for his aggressive defending and ability to make deep forays into the attacking third, is another United player who graduated from the highly successful Palm Beach High School's Football Excellence Program.
Tyler played Men's Reserves for 'Palmie' as a sixteen year old before progressing into their U20 NPL squad and then linking with Magic United then coached by Colin Phelan. The lure of NPL football saw Tyler head north to Yeronga in 2017 where he played with Olympic in the state wide competition alongside Shane Steffanuto and Matt Mundy, two former Brisbane Roar players.
After a standout season at Goodwin Park, Wagstaffe returned to the Coast in 2018 and had no hesitation in re-signing for season 2109.
"With Kristian (Rees) coming in as coach he's signed some new faces, some good players and I like his approach and where he wants to take the team," Wagstaffe confirmed.
Living just a stones-throw from Coplicks in Tallebudgera, it was a 'meant to be' for Tyler.
"The new training facility is great and for me with the new coaching setup that's really attractive."
Wagstaffe suffered an Achilles injury against Redlands in Rd15 last season restricting him to just 15 appearances in the top-flight in 2018 after making 22 appearances for Olympic in season 2017. He returned to the fold late last season, albeit a little gingerly, and he's since been working hard on his rehab and believes that he is almost back to his best fitness wise.
The defender's personal goals for the upcoming season are simple, "I just want to play week in week out, injury free."
Tyler joins a growing, impressive array of defensive players at United including former Socceroo Michael Thwaite, young gun centre-back Oskar Dillon and recently signed goalkeeper Griffin Bambach. The intentions of Men's head coach Rees, himself a former A-League defender, are becoming clear but word is that upcoming signing announcements are more attacking focused.