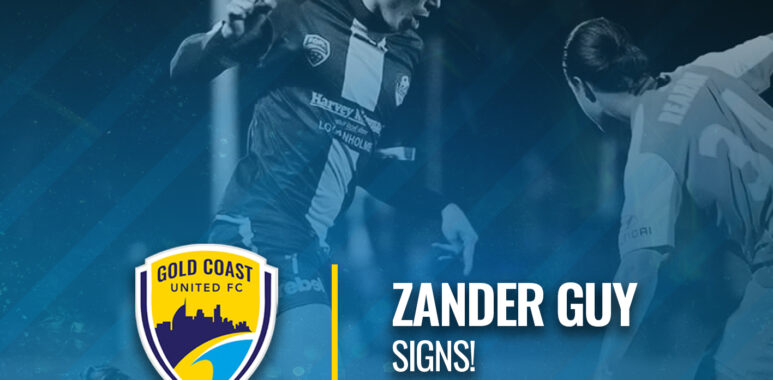 Talented attacker Zander Guy has signed for Gold Coast United
Kristian Rees has added Zander Guy to his attacking ranks days out from the transfer window closing.
The 21 year joins United after a stint at Logan Lightning FC where he took out the Football Queensland Premier League, 2018 Young Player of the Year, in a season that included 14 league goals.
Guy is no stranger to the NPL having previously made 11 senior appearances for Olympic FC in 2017 before joining Logan. The switch to Olympic FC came after 90 NPL outings as a junior for the Palm Beach Sharks and Gold Coast City.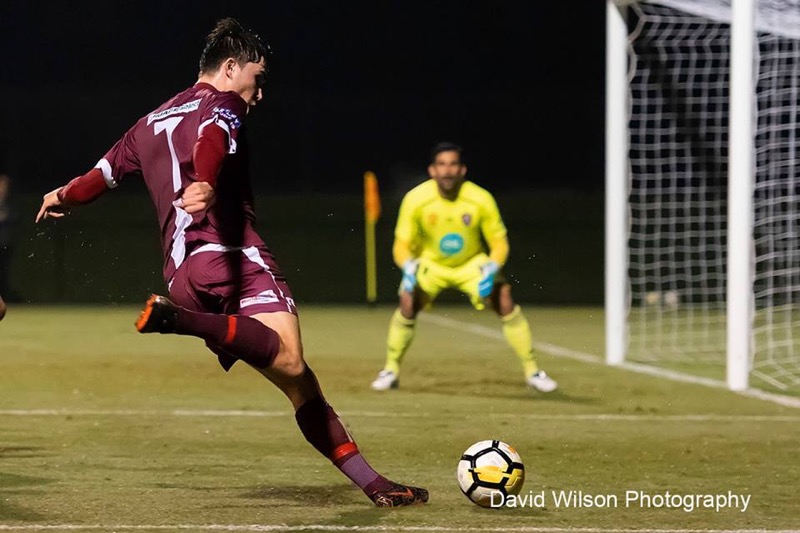 Guy about to unload a shot for Logan Lightning against Brisbane Roar's Jamie Young in goals
Keen to test himself at the next level and to play and train closer to home, Zander is looking forward to the challenge of the National Premier Leagues Queensland competition.
"I'm excited to be joining United. I want to test myself at the next level," Guy confirmed.
"I really enjoyed my time at Logan and am grateful for their support, especially from Roycie (Royce Brownlie) who's been a great coach and mentor. But opportunities like this don't come around often, so when Kristian contacted me I decided the time was right to make the move."


"I spent most of my teenage years playing on the Goldie and know lots of the lads so the transition's been easy. I played with Waggie (Tyler Wagstaffe) at Olympic and grew up playing with Tommy Miller in the Northern Rivers so I feel at home around the squad, which is a big plus."
"I'm looking forward to working hard and making a positive contribution on the pitch and around the club."
For Rees, Guy's arrival is a welcome boost to his attacking stocks which sees Cian Cuba still sidelined with injury.
"I've watched Zander play at Palm Beach and Olympic and have always admired his aggression and ability for a bigger player."
"I had an eye on him in the pre-season and after some discussions during the season, Zander and the club have come to an agreement and we're excited to have him on board."
"He's another locally developed player who I believe has great potential provided he wants to continue working hard."
The talented youngster will be out to press for a spot in United's match day squad that travels to Logan Metro on Sunday, with United looking to bounce back to winning ways against the Brisbane Roar.