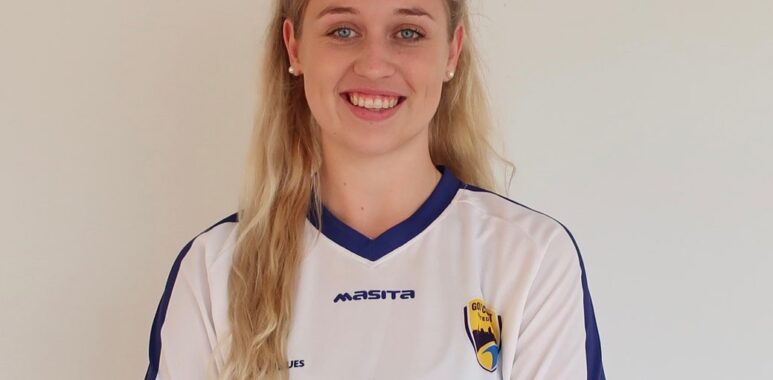 Experienced defender joins United
Tayler Stevens has signed for the Gold Coast United FC 2020 Women's squad
Women's coach Alex Bundalo is delighted to have signed experienced defender, Tayler Stevens, for the 2020 season.
The 24 year old centre back started her football on the Coast and returns next year determined to make an impact for Bundalo's squad.
Stevens believes 2020 is shaping up really well for United.
"I think it's a team that's going to be able to play football or also play direct."
"With the girls Alex has retained, the younger players he's bringing through and the new signings, we're gelling really well in pre-season which is a good sign. It should be a cracker of a year."
Tayler (24) started playing football at Magic United as a 10 year old progressing through the Football Gold Coast representative system before joining the Palm Beach Women's NPL side in 2013 and playing her final match for the Sharks in the 2015 in the grand-final against The Gap. In 2016 Tayler made her way up the M1 linking with South United alongside former Palm Beach mentor, Gary French.
On the strength of being included in the 2017 Football Queensland Team of the Year, Tayler ventured south to trial with both Melbourne City and the Western Sydney Wanderers Wleague clubs before spending the 2018 season in Melbourne, first at Calder United and then with the South Melbourne NPLW side. In season 2019 the defender returned to Souths making 17 appearances in a season disrupted by injury.
For Bundalo signing someone with Tayler's experience is a real coup.
"Tayler's a quality player with a stack of experience. She's someone I'll be looking to be a central figure not only on the park but also in the sheds." 
"She's knows what it takes to be competitive at this level and adds some real depth to our defensive ranks bringing a steady, calm head to the squad which will be a big plus for us."
For Stevens the opportunity to join United and impart some of her experience is something she's looking forward to.
Tayler Stevens in action for South Melbourne
"Playing at South Melbourne was an amazing experience for me. The league was really strong, a lot more professional than what I was used to at the time."
"I think the Queensland league is getting better and better. There's girls from down south who are now coming up to play in Queensland and lots of quality imports."
"The chance to return to the Coast and play football at United and be part of a growing club is something I'm really excited about."
Welcome to Gold Coast United Tayler!