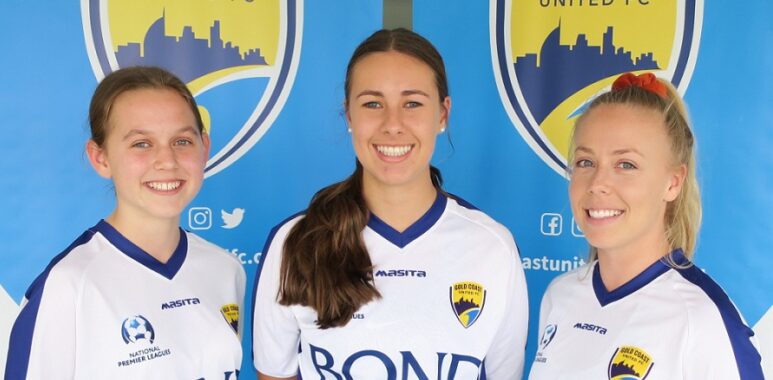 Charlie Farmer, Bronti Hodgkinson & Kirsten McGilvray, added to the Gold Coast United 2020 Women's squad
Gold Coast United Women's midfield ranks have been strengthened with the signing of two new players and the return of another of the club's teenagers for season 2020.
Bronti Hodgkison (17) has re-committed to the club for next season and is joined by former Roar Youth teammate Charlie Farmer (16) and the experienced Kirsten McGilvray (26) in Alex Bundalo's squad.
According to Bundalo they are, "three very different types of players who bring different attributes to the squad."
"They'll compliment each other and add much to the way we play."
"I'm really excited to have all three girls on board, and I'm looking forward to see how Charlie & Kirsten settle in to the squad."
"They're both quality young women and outstanding players."
"I've watched Bronti develop this season, I think she has huge potential if she continues to work hard."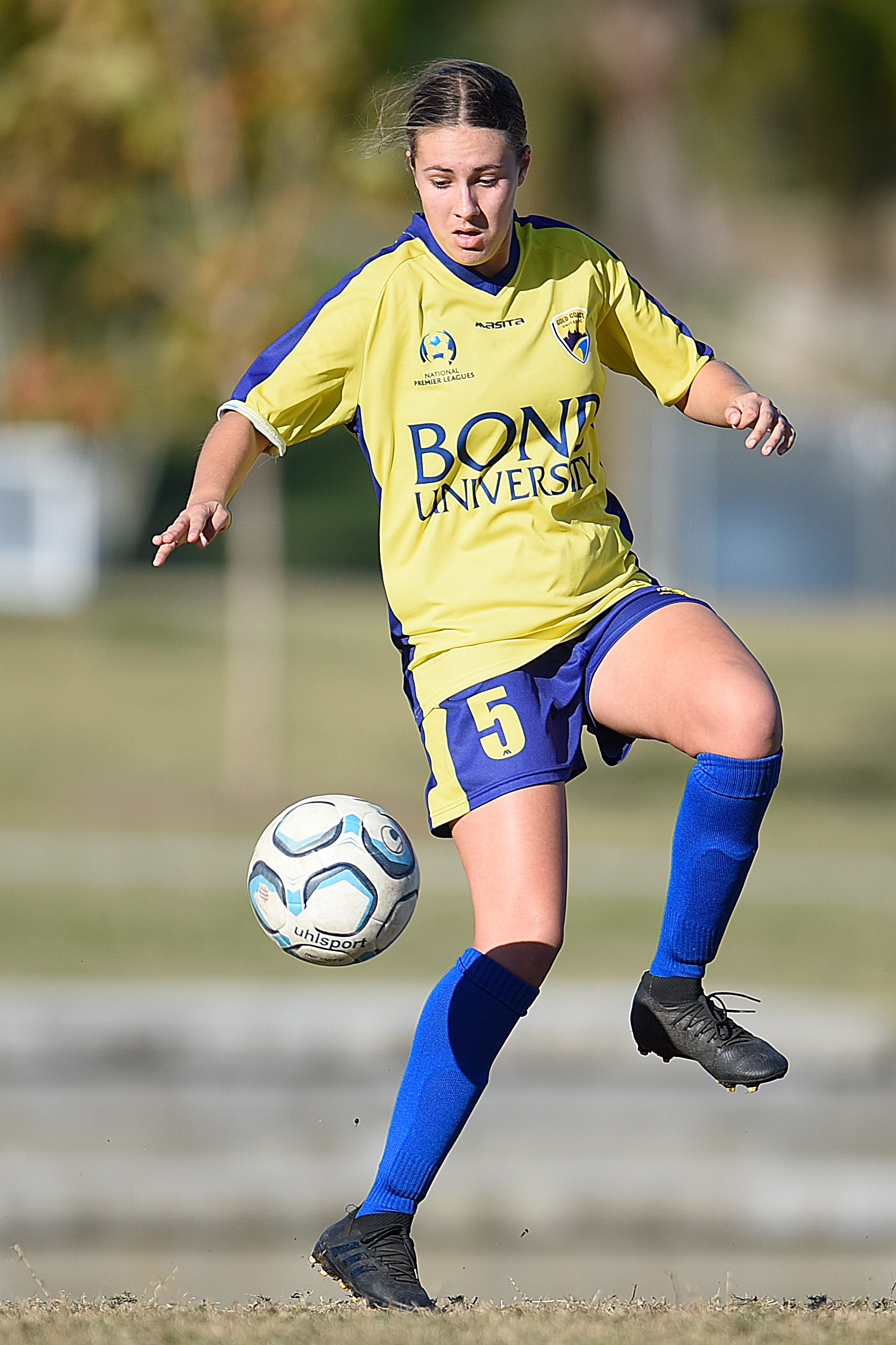 Bronti joined the club at the start of the year and was involved in 25 matches with the Women's squad in 2019. It's been a busy time for Hodgkinson who is wrapping up her year 12 at Emmanuel College. In her spare time she manages to take part in athletics, forging a path as a State hammer throw champion.
Having just competed at the Australian Indigenous Football Championships, Bronti is ready to take on another pre-season.
"I'm so keen for next season, I'm so excited."
"It's going to be a great group of girls coming together.
"I know Charlie Farmer and I'm so looking forward to playing alongside her again."
As for Farmer, she's looking forward to a lot less travel as she makes the switch from the Roar to United. A student at St Andrew's Lutheran College, a minimum of four trips north on the M1 every week were starting to take their toll, and with senior studies looming a reduction in travel time was one of the factors that lured the current Junior Matilda to United.
"It's a lot closer to home so I'm looking forward to a lot less travel and a new environment."
Heading in to her tenth year of football, the former Tugun Jet joined the Palm Beach Sharks before heading to Souths United to continue her junior NPL journey. A move to the Brisbane Roar saw her well placed for a Junior Matildas debut.
"This time last year I got the call up to go to the first qualifiers for the AFC."
"I just got back recently from Laos were we came fourth, only just missing out on going to the World Cup."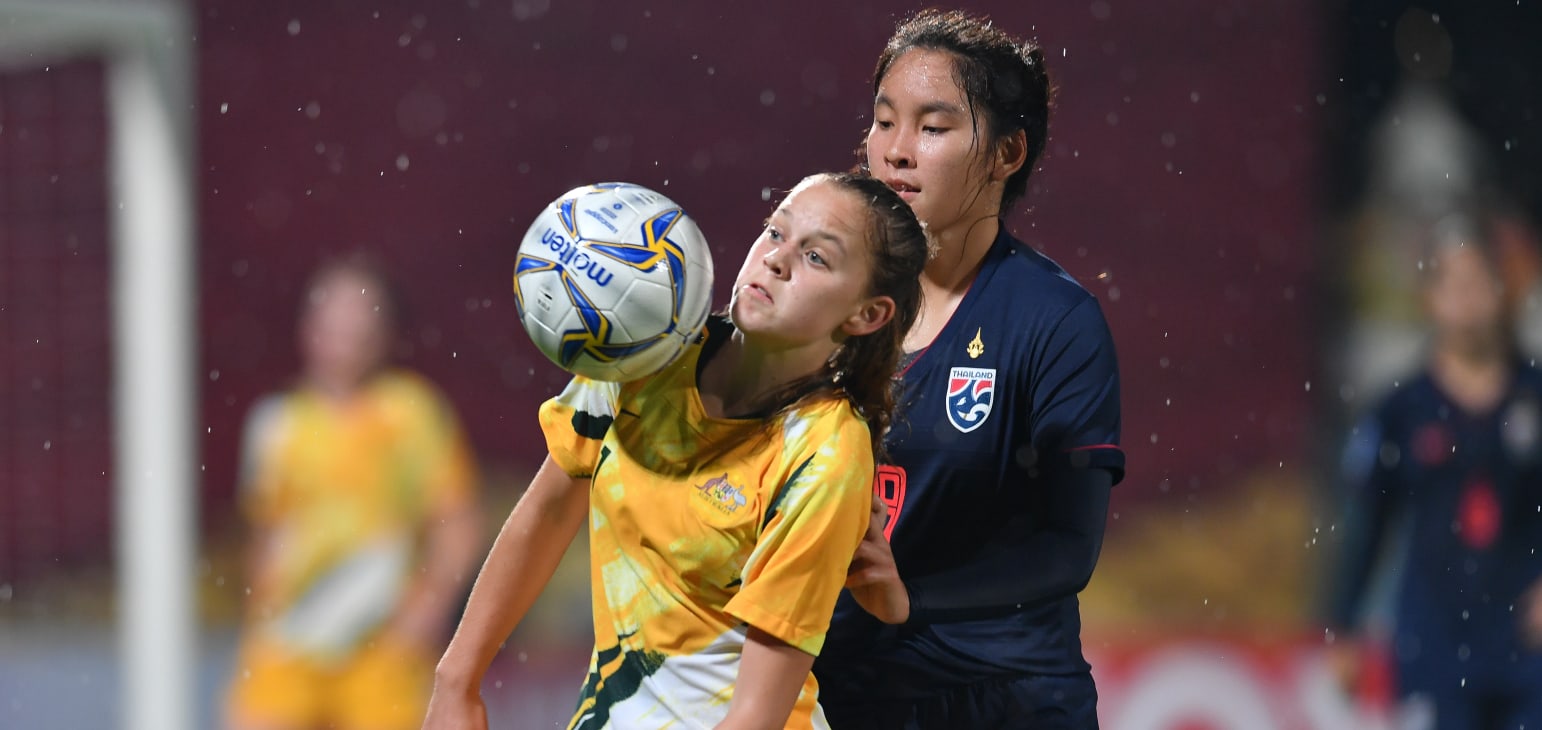 Charlie in action for the Junior Matildas against Thailand
There's no shortage of ambition from Charlie who hopes to bag a sack full of goals for United in 2020 and take the club beyond what they achieved in 2019.
"I've played against a few of the United ladies when I was at the Roar and obviously know Bronti well.
"I'm looking forward to re-uniting with her and getting to know the squad and working together with Alex to see what we can achieve."
A Gold Coast local, Farmer began her football at a young age and was soon earmarked as someone with exceptional potential. Bundalo knows full well the special qualities that Charlie has as a player and is excited to have the chance to work with her to enhance these.
"Charlie's a very talented young player," Bundalo confirmed.
"You don't rise to the top of your age group at the national level unless you've got top level skills. And she does."
"And she's been involved in the Women's NPL environment from a very young age, she understands what's required at this level.
"For some young players the transition to senior football is a massive jump, but not for Charlie."
"Her skills, vision and ability to read play, place her in good stead to cope with the more physical demands at this level."
Kirsten McGilvray's another who's familiar with the rigors of Women's NPL football. The former Robina City junior played women's premier league with Broadbeach United before heading north to join Souths United where she made over 50 appearances in the NPLW, notching up a batch of goals in those games. Kirsten last played at Souths in 2018 in the same squad as Ellie Fryer and Dee Thompson, so will have little trouble settling in at the club.
"I learnt so much playing NPL. I did it for three years."
The midfielder is "super keen to get going again, to get in shape and win games, that's my focus."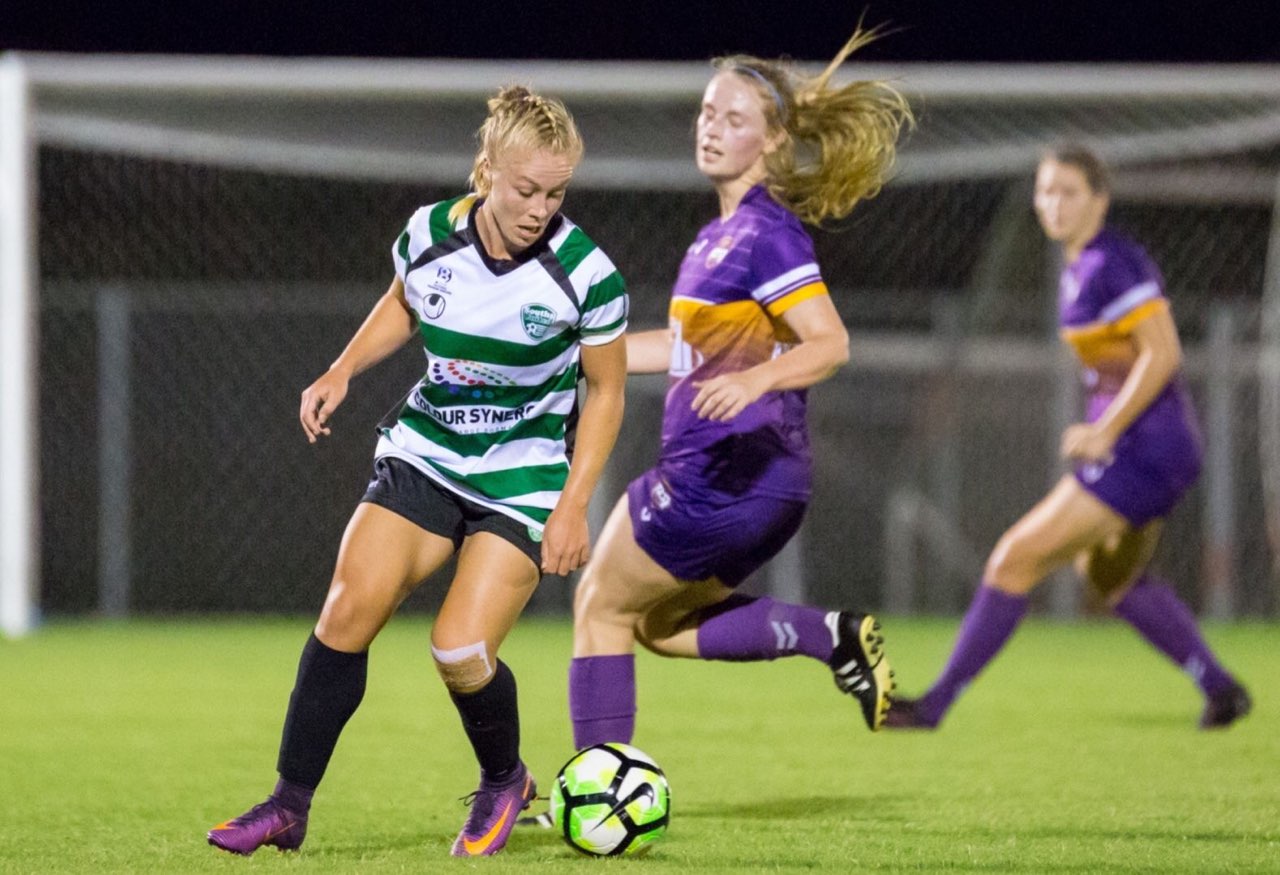 Kirsten in action for Souths United against The Gap
After a year out of the game to establish a new business, McGilvray is primed to test herself again and believes that Gold Coast United is the right club to do that at. Alex Bundalo agrees, and believes that Kirsten is the right type of player and person to be part of his squad and at the club.
"Kirsten's a very experienced campaigner and a fantastic person to have around the squad."
"She knows what's required to compete at this level and her background in teaching and coaching will stand her in good stead with helping our younger players to adapt to the demands and expectations."
"She's bubbly and brings the right sort of vibe to the squad. And she's got something to prove to herself, she'll work hard to achieve that and we'll reap the benefits."
Welcome Ladies, we're so looking forward to watching you all play in 2020!