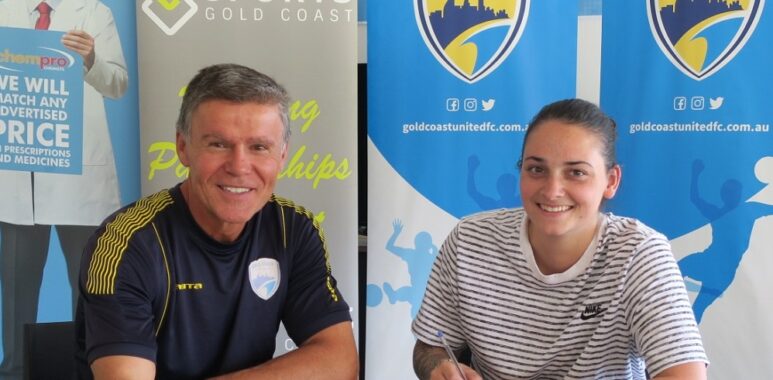 Cassie Zaffina is returning to Gold Coast United, here with coach Alex Bundalo
Huge news with double winning goalkeeper, Cassie Zaffina, returning to Gold Coast United for the 2020 Women's Queensland National Premier Leagues season.
After joining the club in the back end of season 2018, Cassie enjoyed a stint with Canberra United in the Wleague before joining NPLW rivals, Lions FC, for season 2019. Having achieved her Premiership / Championship goal this past season, Zaffina was keen to return to where it all began for her in the Sunshine State.
"I wanted to come back to where it all started."
"Gold Coast was home for me when I first came here and now that I've achieved the double I want to help the club build success."
"The club has a very unique vibe, a family vibe, that I don't think a lot of other clubs have.
"And with the signings alrea dy announced, plus some new additions, we can build on 2019 and push for titles in 2020."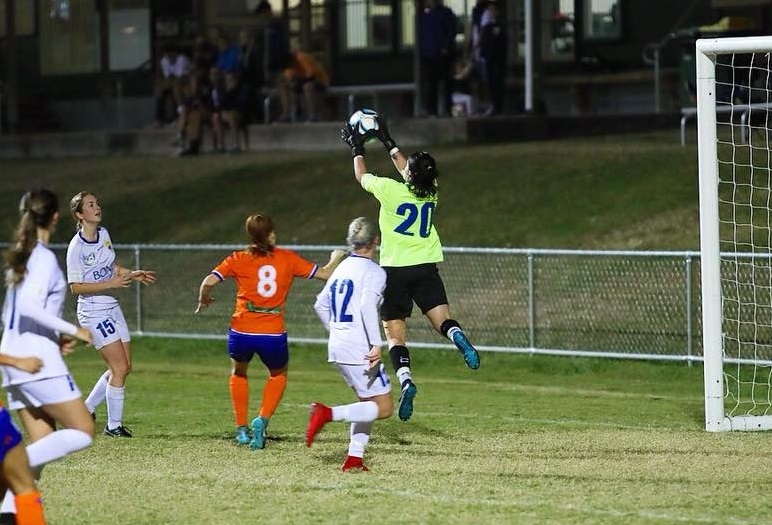 Zaffina in action for Gold Coast United against Lions in 2018
The former attacker fell into goalkeeping after a 'near career ending injury' and has forged an interesting footballing path since.
"I got the news I had a medical condition that would mean I had to give up the game all together.
"But I found a way to still play and that was as goalie."
First donning the gloves for Alamein Football Club, Zaffina was scouted by South Melbourne and after 18 months in the Victorian NPLW she ventured to the Coast looking for a new challenge, crediting the club for setting her up for the next stage of her football journey.
"I'll be forever grateful for the opportunity to play for Gold Coast United and to be offered the chance to trial with Canberra."
"The road towards the W-League was a tough one for me.
"I've worked incredibly hard and had plenty of setbacks along the way."
"I definitely still  have ambitions to go back into the Wleague next year, but I'm taking a break to focus on my time at United and on coaching."
"I've just opened my own academy.
"I felt like there was an opportunity to fill a gap here on the Coast."
"A lot of young kids get pushed into keeping and they don't get the coaching they really need to get the most out of playing in goals."
The opportunity to learn from two of the country's leading goalkeeper coaches, Paul Jones and Fernando Vas Alves, is something that Cassie is looking forward to embracing, both for herself and her own performances on the park and for her coaching aspirations with her newly established Zaffina's Goalkeeping Academy.
Great to have you back Cassie!