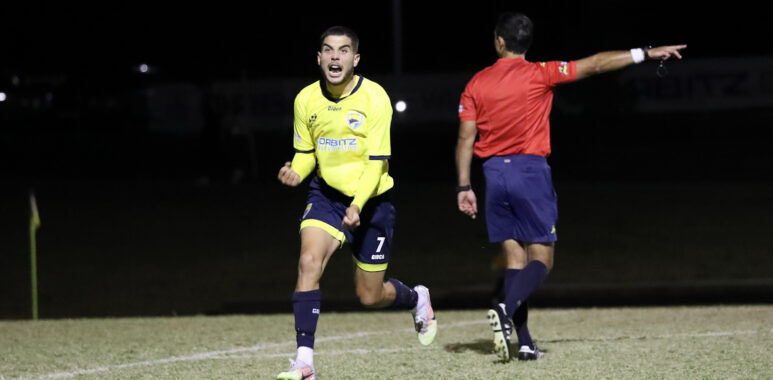 Cian Cuba celebrates his match winning goal, Ole! (photo – Sportspics)
A fighting team performance from Gold Coast United FC against Capalaba FC last night. Playing the majority of the game with 10 Men, United's spirit earned three well deserved points, 2-1 winners at Tallebudgera.
The home side got off to a blistering start when winger Zander Guy converted a sweeping move, United out of the blocks the quickest. The celebration was tempered though soon after when Brandon Reeves was carded for an indiscretion. That booking proved costly on 35 minutes when the attacker drew another card from the referee's pocket. An early night for Reeves.
Reduced to 10 men, the experienced spine of Aidan Munford in goals, Michael Thwaite and Junya Yabe at the back, Justyn Mckay in the middle of the park and Sam Smith up front, guided the Men to a 1-0 lead at half time. 
Not unexpectedly it was the Dogs who came out with plenty of early gusto after the break. A stinging Scot Coulson strike rattled the crossbar shortly after the resumption. Resolute defending from United across the park kept the visitors at bay, with Munford in goal right in the thick of things, pulling off some classy saves to maintain United's lead.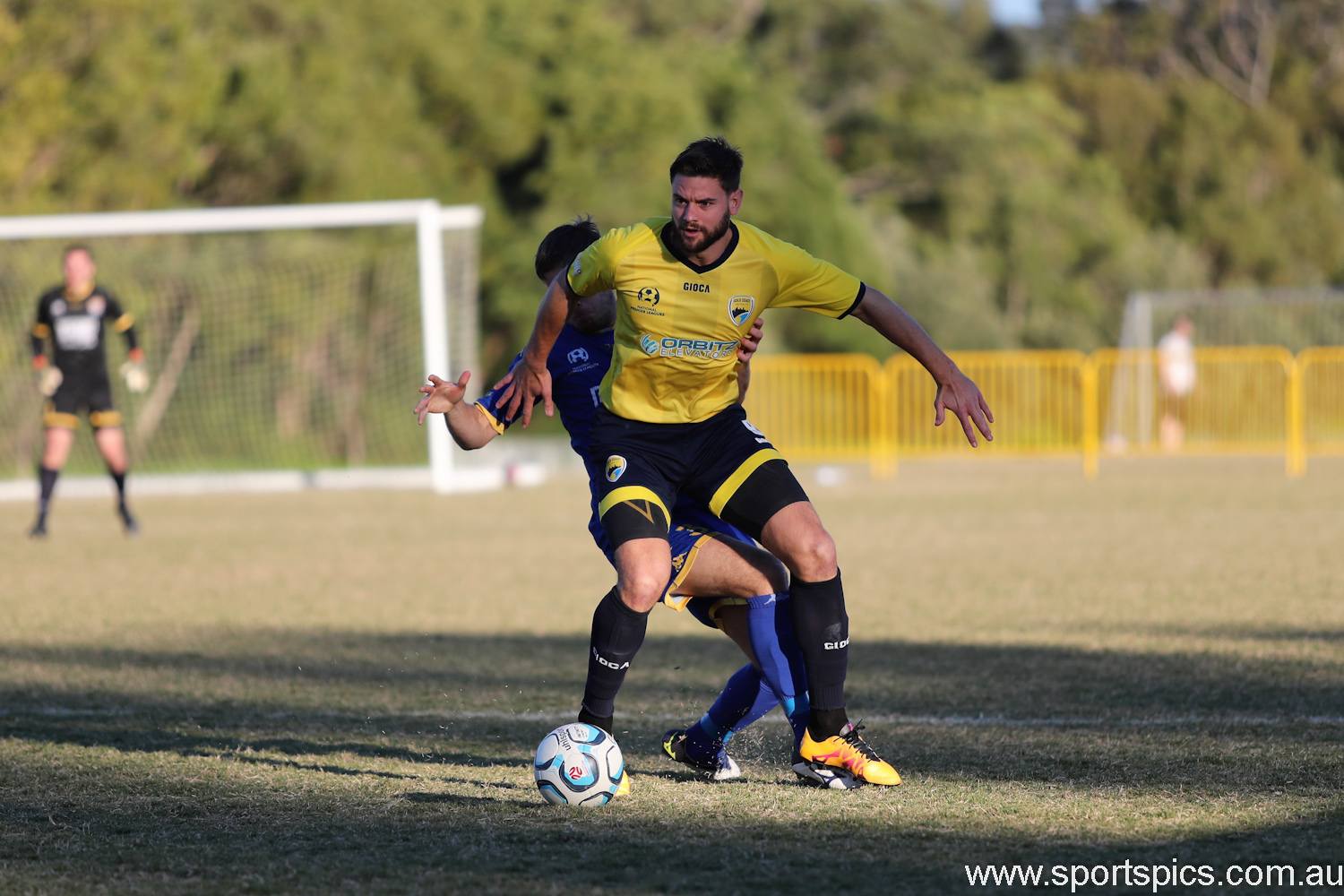 Sam Smith produced a Player of the Match performance up front for Gold Coast United (Craig Clifford @sportspics)
With Sam Smith grabbing the attention of Capalaba's central defenders in the front third, opportunities were on offer for the Coast's wide pair – Cian Cuba on the left and Guy down the right – to take advantage of some space and run at their back-pedalling opponents and create some decent chances for themselves in front of an alert Michael Weier in the Dog's goal.
It was left to a typically incisive Cian Cuba burst to bring reward. Fouled on the edge of the box, the winger stepped up and delivered his third goal of the 2020 campaign with a sweetly struck, well placed free kick that, this time, Weier could do little about.
To their credit the Dogs fought hard to the end. Right on 90 minutes defender Nicholas Robinson pulled one back for the visitors, adding another twist to this entertaining clash.
United stayed strong and secured a valuable three points that sees them jump Capalaba into sixth spot on the Football Queensland National Premier Leagues ladder. 
Next Game – Sunday 23 August, 5pm
Coplicks Family Sports Park
Gold Coast United FC v Redlands United FC