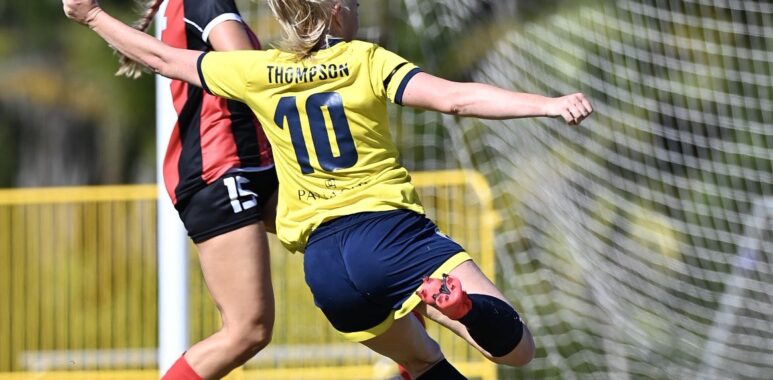 Women off to winning start!
Deeanna Thompson celebrated her 100th game in the #NPLWQLD competition with a goal (photo Kyoko)
Gold Coast United FC maintained their top spot on the Football Queensland National Premier Leagues Women's ladder with a two nil win at home over Mitchelton FC on Saturday.
The first 'post-Corona' competitive hit-out for United saw Dee Thomson open the scoring in the first half in her 100th #NPLWQLD appearance. Rie Kitano doubled the advantage just before half-time with a deft free-kick from the edge of the box. Two nil to the home side at the break and at fulltime.
Another highlight was a home starting debut for Amalia Jobson (15) who was little troubled between the sticks.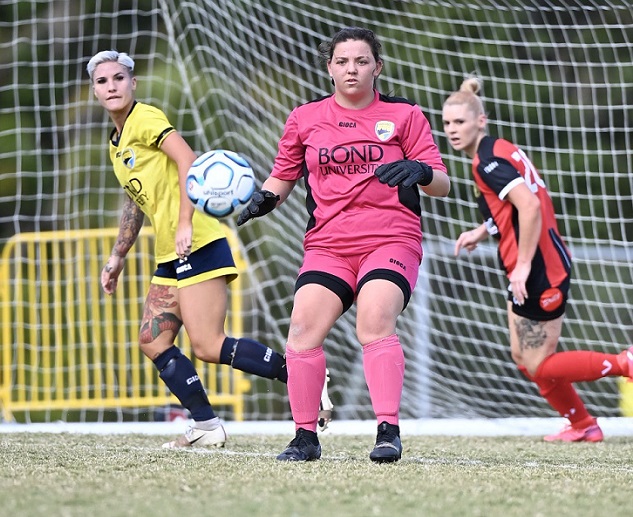 An assured display in goal on debut for Amalia Jobson (15) – photo Kyoko
Amalia took her chance with Cassie Zaffina still sidelined from goal-keeping duties with a hand complaint. But that didn't stop Cassie making a rare outfield appearance late on in the second half.
Holly Gray (16) also saw her first competitive minutes off the bench in a squad that featured six teenagers. Gray was subbed on for Eash Norrie who also made her competitive debut for the Club. It was Norrie's pin-point pass that set Dee Thompson in behind to score her 106th goal in the competition.
A fantastic achievement from Thompson to reach her century but an even more impressive return in front of goal – 100 games – 106 goals. Stay on the park Dee!
Next game
The Women take on Logan Lightning FC at Coplicks next Saturday the 8th of August.
Kick-off is at 1pm.