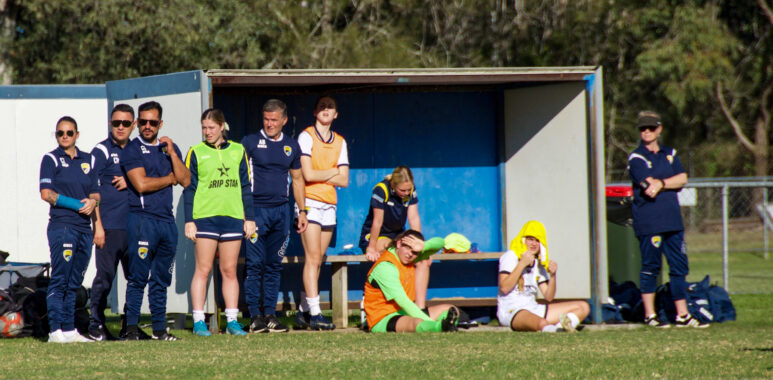 United's emerging female talent
Gold Coast United female support staff and bench (U18's v Capalaba, 18 July 2020 – Parkin)
With a heavy playing schedule and workload in store over the next few months, Women's coach  Alex Bundalo and U18's gaffer, Cristobal Soto, are working closely together to prepare the next crop of talented younger players to step up to the senior ranks, which already boasts six teenagers.
Three of Joe Repic's 2019 U18 double winning squad have made the leap into the Women's program this season – Amy Langworthy (19), Chloe Burns (19) and Paige Taylor (17). They join Bronti Hodgkinson (18) who came to the club at the beginning of 2019 and Anabelle Gibson (17), another member of Repic's 2019 squad, who took the step up mid-way through last season. Charlie Farmer (16) joined United at the beginning of 2020.
It's an exciting season ahead, with a stack of very talented young women on show across the club's female ranks. Here's a look at some of the stand-outs from the current U18's squad likely to play a part in the Women's 2020 campaign.
Reese Donnelly (16)
A product of Mullumbimby, Reese recently took a further leap across the border, joining the Palm Beach Currumbin High School's Football Excellence program to spend even more time on the ball in an environment that encourages and supports talented young sportspeople to excel in their chosen sport, while still pursuing their academic goals.
As if shifting schools isn't intimidating enough, how about the travel schedule! Reese still commutes to school and training from Mullum every day, but with her focus on bigger targets she's taking it all in her stride.
"It was a bit scary because I didn't know anyone and I've come from NSW so being new to soccer and a new school was a bit daunting but the coaches and girls were very welcoming."
"It's been my goal since I was younger to go to college in America to play but I just want to follow soccer and see where it takes me," she said.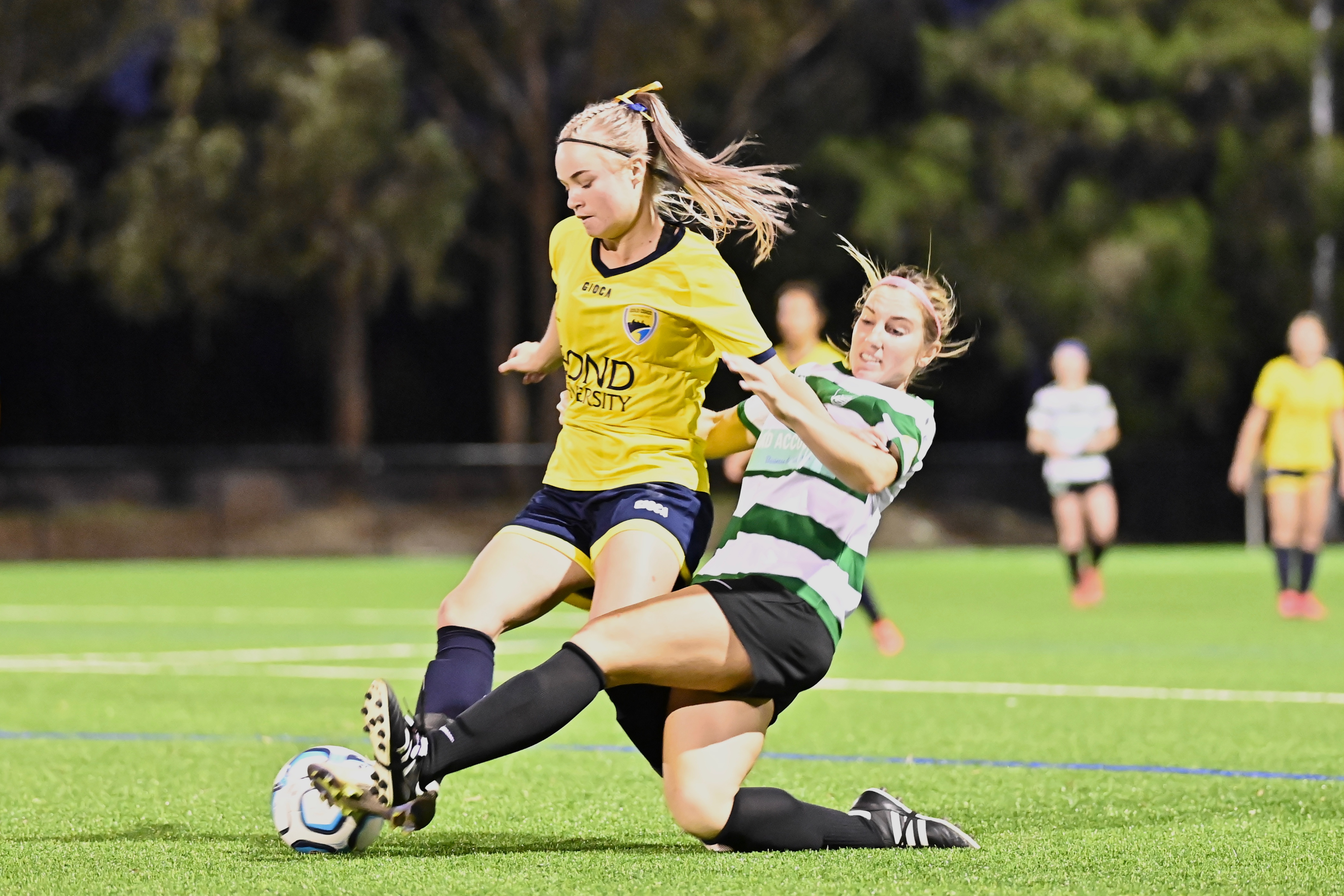 Donnelly in action for GCU Women v Souths (Kyoko)
Rees will be one of the key forces in PBC's Queensland Schools Premier League (QSPL) 2020 campaign as well as leading the Gold Coast United U18's and playing her part in the Women's 2020 campaign.
Juggling travel, school and her Gold Coast United commitments, Reese demonstrates the sort of sacrifice and commitment it takes to achieve your goals.
Holly Gray (16)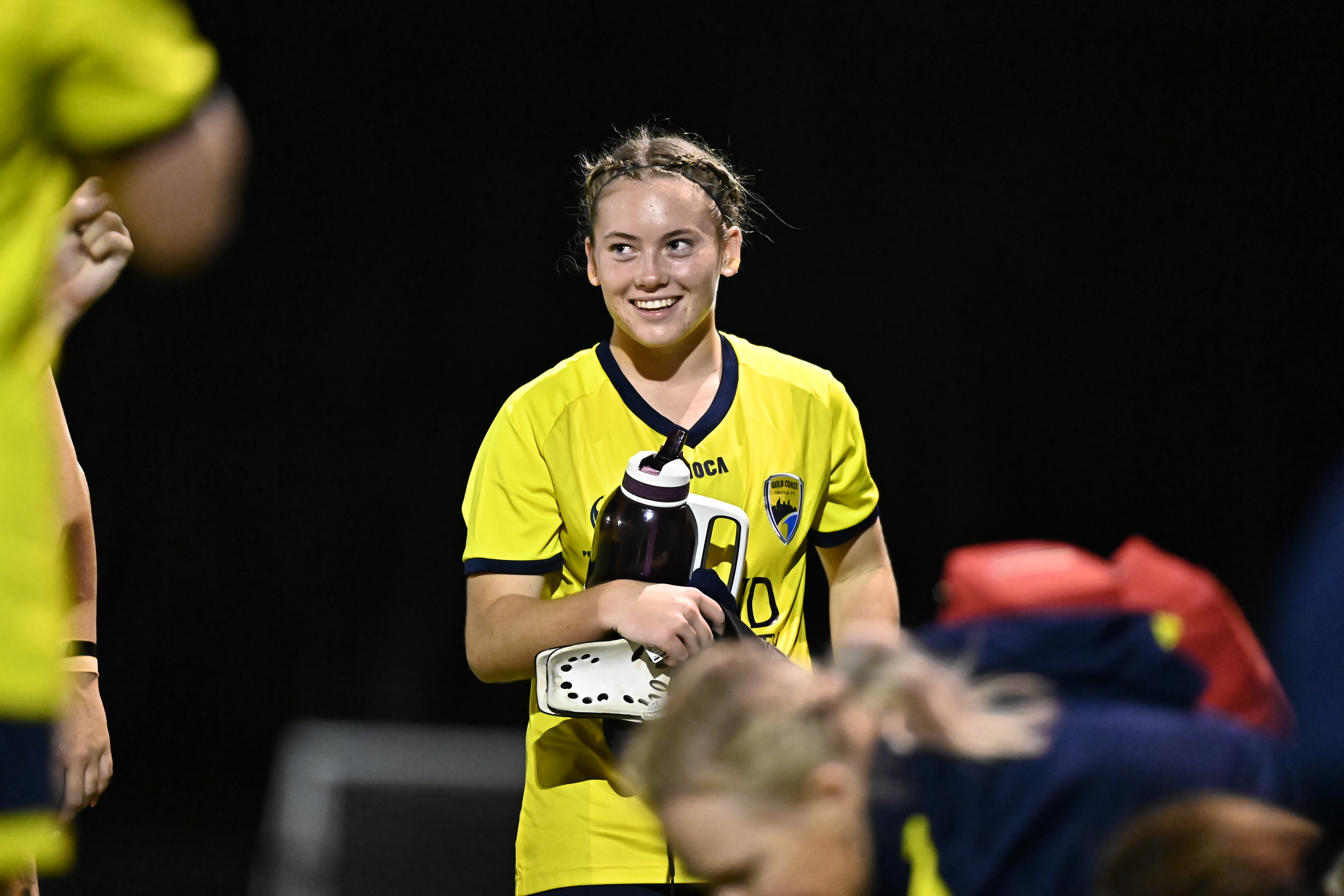 A happy Holly after scoring on her senior debut (Kyoko)
Holly made her Gold Coast United women's debut in their recent trial against Souths. To cap off a memorable day, Holly bagged a goal. She's got a knack for scoring!
A Queensland representative at the FFA National Futsal Championships, Holly's also carved out an impressive junior #QLDNPLW record first with the Palm Beach Sharks, then at Souths United and now at Gold Coast United.
NPLW junior appearances                 118        
Goals                                                               105
Ryleigh Saunderson (16)
Ryleigh played alongside Holly Gray for Queensland in the 2018 National Futsal Champs. The club's youngest debutant to Women's football, she not only excels on the futsal court but is an emerging talent on the outdoor pitch too.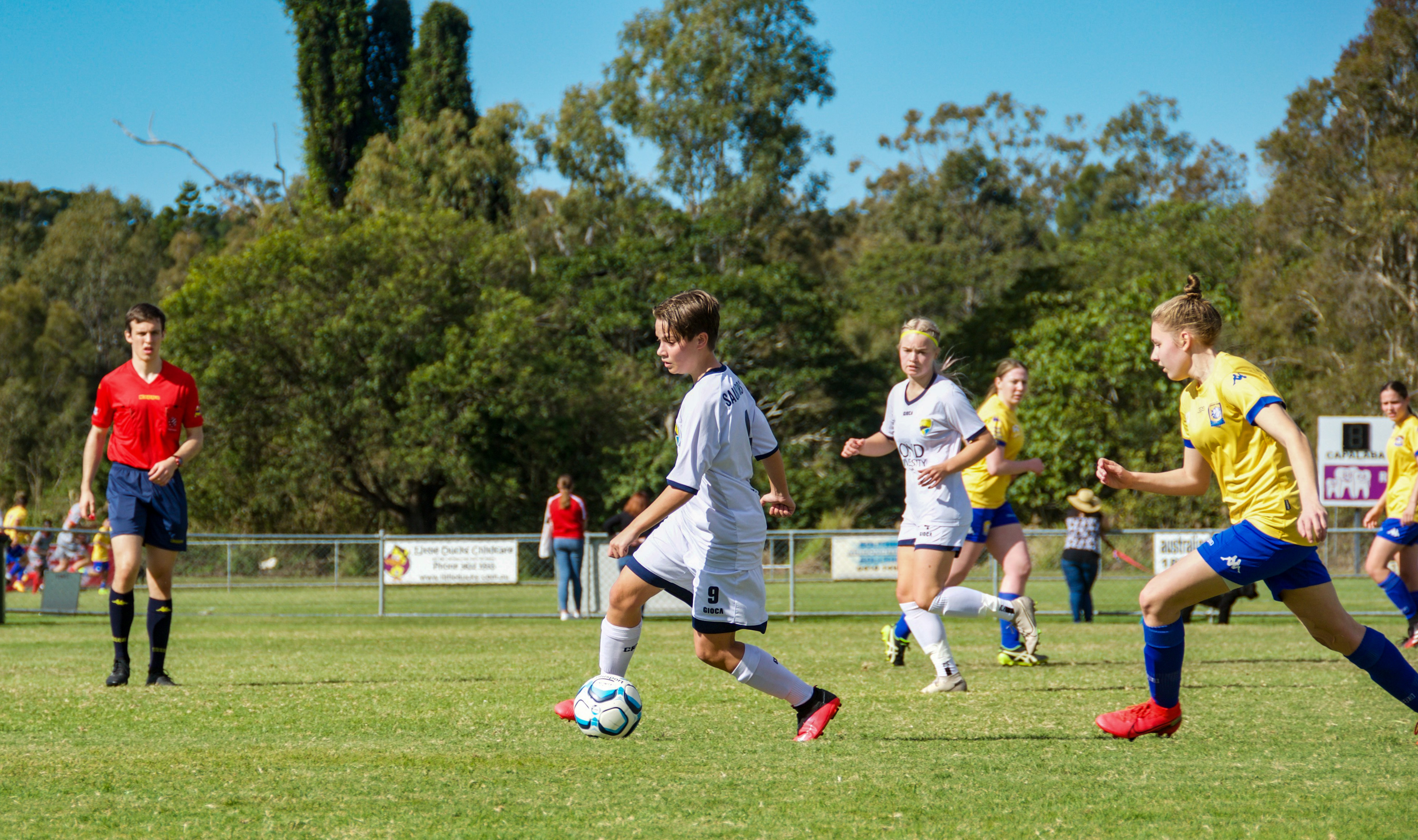 Ryleigh Saunderson in action against Capalaba (Parkin)
A player at the club since its NPLW inception, the diminutive midfielder glides around the park creating space for herself, weaving her way through traffic. Can pass, can tackle, can score goals. A very creative player, Ryleigh is sure to be a handful for all opposition defences in 2020.
Claudia Danckert (16)
Claudia's another from the 2019 U18 Girls squad who lets her performances on the park do most of the talking. With silky skills, a good feel for the game and a full range of passing, she's a quiet achiever.  You won't see a lot of fuss and hulabaloo around her football, what you will see though are some flashes of real quality. One to keep an eye on as she progresses in the remainder of the 2020 season and beyond.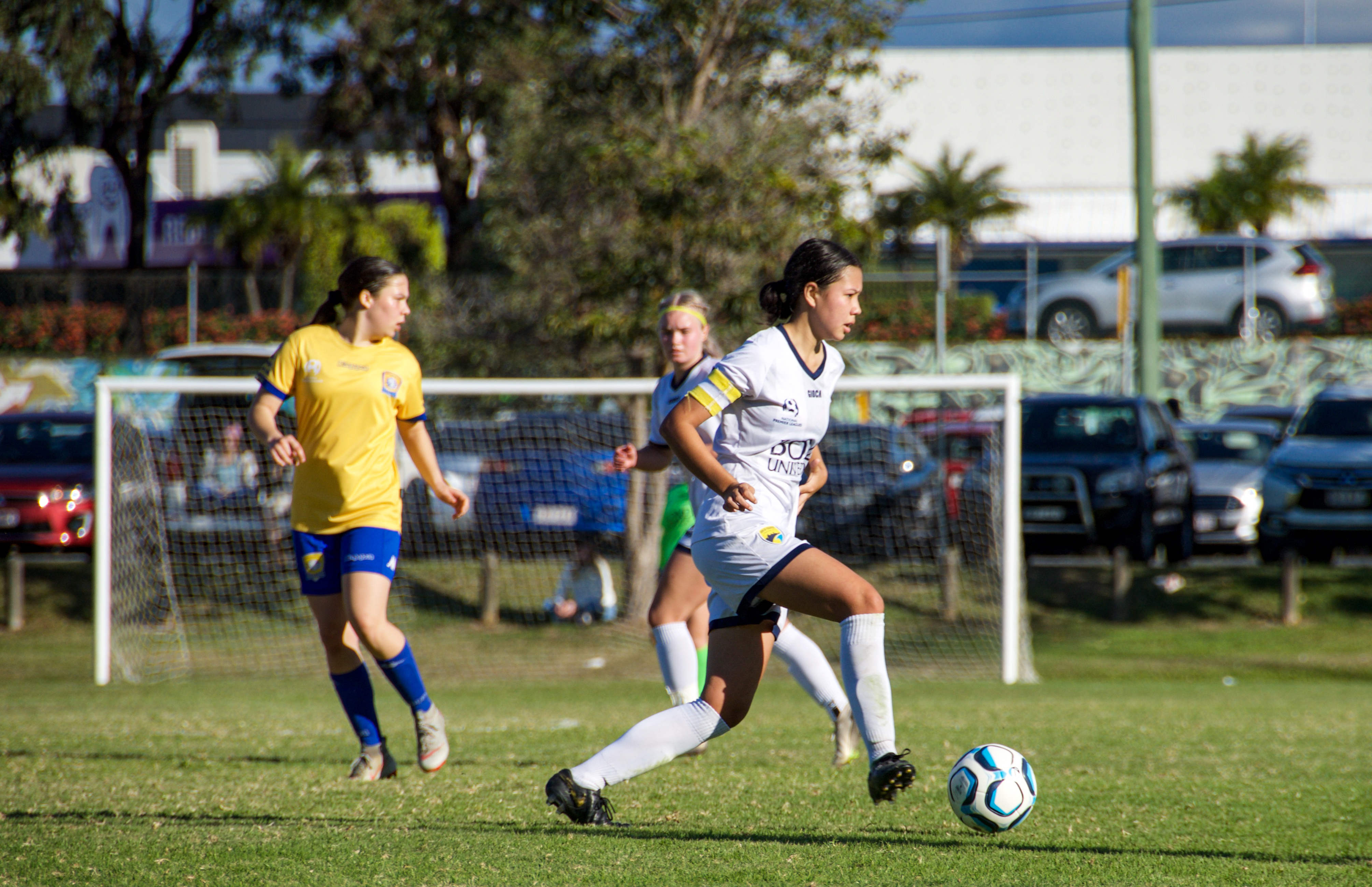 Claudia control  v Capalaba FC (Parkin)
Amber Wilkinson (15)
Amber returned to the club in 2020 after a season at Souths United in 2019. A member of the 2018 U15 Girls league winning squad under Garlo, she now finds herself as 2IC to the Women's shot-stopper Cassandra Zaffina after Arky Ryall recently stepped aside due to work and other commitments.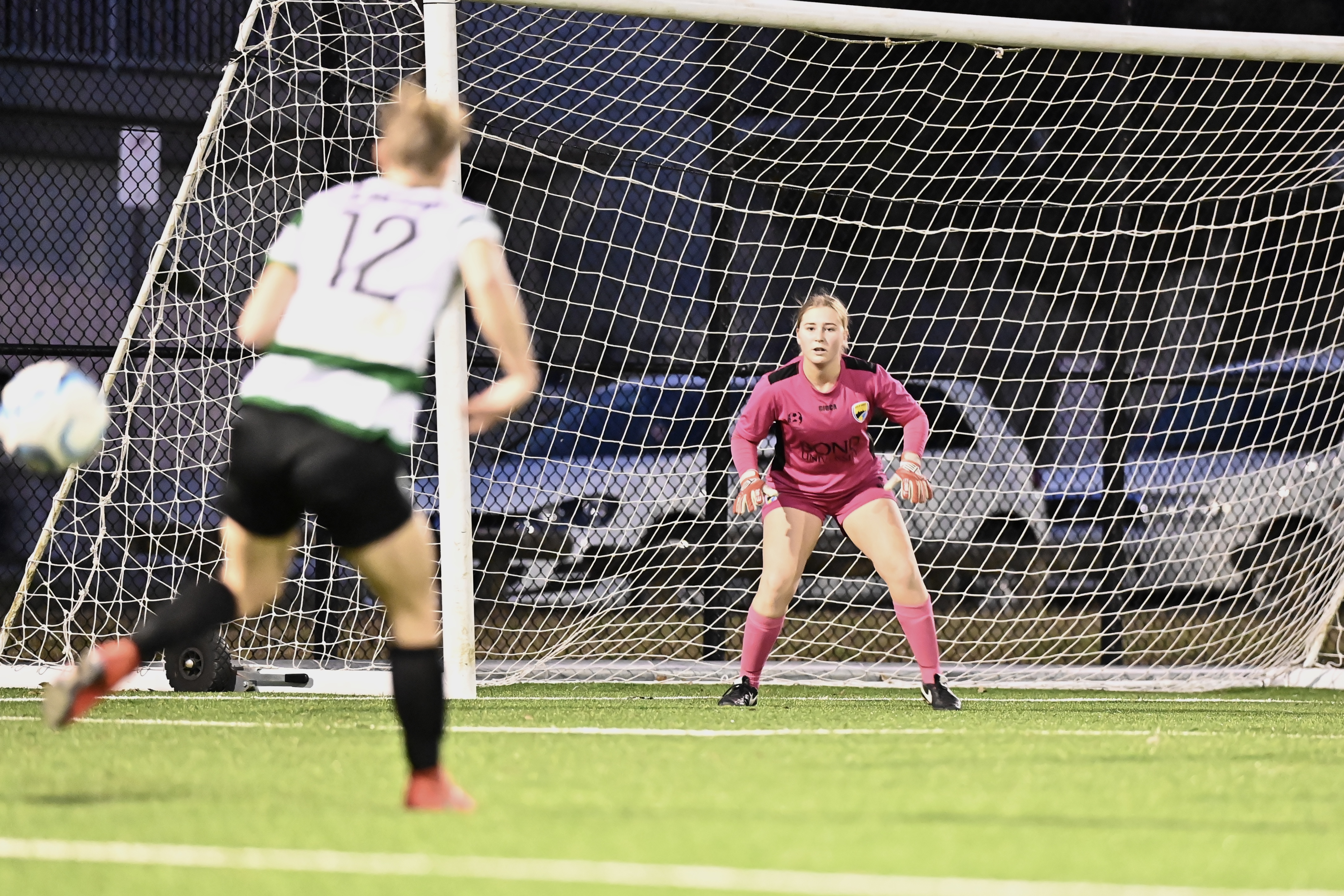 Amber Wilkinson in goal for the Women against Souths United (Kyoko)
Amber is working alongside Zaffina and the club's goalkeeping coach, Paul Jones, preparing for a rigorous season between the sticks for the U18's and taking her place in the Women's squad as needed and when the opportunity arises. With Cassie currently sidelined with a hand injury, Amber's expected to make her senior debut in this Saturday's home clash against Mitchelton.
Upcoming games:-
Saturday 1 August
U18 Women      11am
Women                1pm