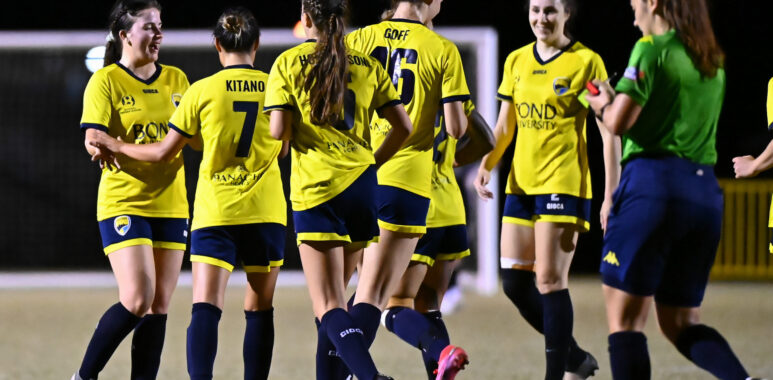 Gold Coast focused for top of the table clash
Gold Coast Women united, celebrating a recent goal (Kyoko) 
Saturday night's clash between Lions FC and the Gold Coast United FC Women looms as a circuit breaker in this year's Football Queensland National Premier Leagues competition.
Equal on points at the top of the league ladder, a win for either side will go a long way to putting a stamp on this season's trophy.
With two games in hand on the defending champions, United head to Lions Stadium knowing that a result against the home side will set them up with a great shot at the title but coach Alex Bundalo has his mind set on one thing, keeping his squad's eyes fixed firmly on Saturday's match and no further.
According to Bundalo, "this is undoubtedly the toughest game of the season against a very well organised and coached team full of big name players who'll be desperate to win this week after an unexpected loss to Easts last week."
"They have lots of depth across all positions and are the competition's leading goal-scoring team."
Alex Bundalo, taking it one game at a time (Kyoko)
But as most football pundits will attest, attack wins matches and defence wins titles and United boast the best defensive record in the 2020 competition, conceding the fewest goals thanks to one of the toughest and most talented back five around led by skipper Elloise Fryer.
Fryer is ably supported by plenty of experience in the last line with 'veteran' defender Joy Forsyth wide on her left and the fleet-footed Zoe Corbett wide on her right. A mid-season switch from attack to defence has not phased Corbett whose pace, motor and fearless tackling have been a recent revelation. Add to this the reliability of maverick keeper, Cassie Zaffina, and it's little wonder that opposition attacks find it difficult to break United down.
In a marathon season interrupted by COViD, Gold Coast United was affected more than most clubs with the virus shutting out several players for a time, below the bubble, below the border. On top of that the loss of star centre-back Momo Hayashi and dynamic attacker Dani Wise to serious injuries in the same game, has meant a re-shuffle for Bundalo as he looked to maintain his squad's push for a final's berth after a promising showing in 2019.
When one door closes though another one opens and the loss of the talented duo, on top of early season-ending injuries to Tayler Stevens & Alana Giggins, has provided opportunities for other players to step in and step up and that they've done.
Blessed with an outstanding midfield that includes the silky skills, guile and tenacity of Eash Norrie and Rie Kitano, it's the younger brigade that have come to the fore of late to drive United's title-seeking momentum. Talented teenagers Charlie Farmer and Anabelle Gibson have been regular standouts among a bunch of teenagers who have all stood up when asked, grasped their opportunity and are happy to be part of a united squad that works hard and supports each other. Farmer, playing centrally in behind Norrie and Kitano, has flourished as the season has progressed, as has Gibson who's slotted in alongside Fryer at centre-back making a top fist of filling Momo's boots.
At the top end of the park southern transplant Kat Goff has hit her straps at the right time combining well with Canadian flyer Bella Habuda, the squad's leading goal-scorer this season. The return of the mercurial Deeanna Thompson has been a real boost for United too, after she spent her 'lockdown' securing a double for Lennox Head in the Football Far North Coast Women's Premier League, topping the scoring charts with 15 goals in 7 matches in that competition, as well as taking out the Lisa Casagrande medal for best on ground in the grand final.
Deeanna Thompson back and firing for United (Kyoko)
Thompson is no stranger to NPLW success having recently been selected, along with long-time mate and fellow Northern Rivers product, Ellie Fryer, in the NPLW Queensland 'Alltime' best XI.
She knows how crucial the weekend's game is, "this will be one of the toughest games this season for sure," she said.
"We are not only playing to grab the points but we have the league title on the line and the girls are hungry for it".
"We've been preparing really well for the game, we are putting everything into it.
"The girls have really come together as a team and we'll be prepared for whatever is put in front of us."
Ahead of the match one thing is certain, Bundalo will have his squad fully focused on the job at hand on Saturday night, "as always we are up for the challenge and are looking forward to the game." So are we!
Match Details
Football Queensland NPLW Round 16
At Lions Stadium, Richlands
Saturday, 31 October 2020
Kick-off 6pm
Live on NPL.tv