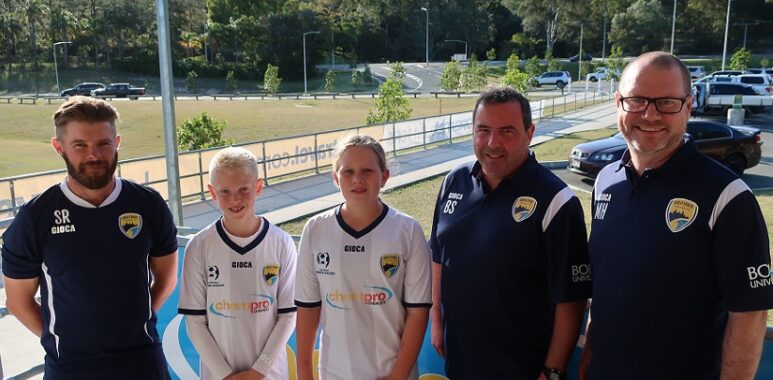 New Heads of SAP confirmed
Shane Robinson, Mason, Zara, Barry Saunders & Matt Hay
Gold Coast United FC welcomes Barry Saunders and Matt Hay to the coaching staff, the pair bring further quality and experience to the junior coaching female ranks and along with Shane Robinson will head the club's SAP Boys & Girls programs.
Technical Director Craig Midgley is delighted to have lured Saunders and Hay to Coplicks and is confident that all three coaches are the right choices to lead and  develop the Club's youngest prospects, players and coaches alike.
"Barry and Matt are quality additions to our football staff," Midgley confirmed.
"They're both very well qualified, vastly experienced and keen to explore how we can enhance our junior girls' programs."
"And Robbo's the absolute right fit, another top young coach who's well respected at the club and in local and school football circles."
Saunders and Hay have been heavily involved delivering quality coaching for female players in the region for many years, most recently Barry was the Director of Coaching and Matt the Girls Director of Coaching at the Kingscliff Wolves, growing that program to one of the largest and strongest in the area.
The pair are no strangers to the National Premier Leagues competitions with both enjoying stints in the female coaching ranks at Palm Beach and Gold Coast City. Saunders also coached NPL juniors at Brisbane Strikers while their Head of SAP and has held State coaching roles in both Queensland and New South Wales.  With a vast array of roles, qualifications and experience behind them the duo are itching to get their teeth into their new roles.
According to Bazza, "this is a great step forward that GCU have identified the opportunity to provide additional support to female players from their varied entry ages into football through to Under 13's and beyond."
"Matt & I are both really looking forward to working with the talented female players on the Gold Coast and Northern NSW and supporting their development to further their opportunities to progress in our game."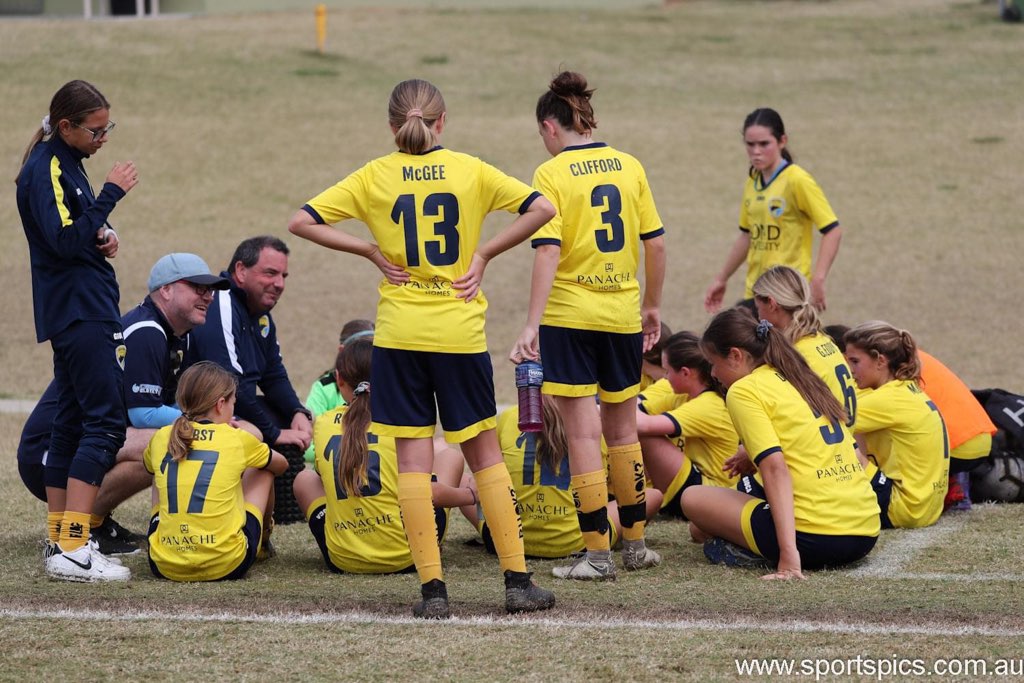 Matt Hay & Barry Saunders with the GCU U13 NPLW girls during the club's RUOK round

While an exciting time looms for the club's younger female players, Midgley is equally excited to have Shane Robinson take the reins on the SAP Boys side.
Robinson, a key cog in the Palm Beach Currumbin State High School's Football Excellence machine, brings his vast knowledge of the local football scene, his experience as a player at a high level and his insightful eye to head a jam packed line-up of talented youth coaches at Gold Coast United.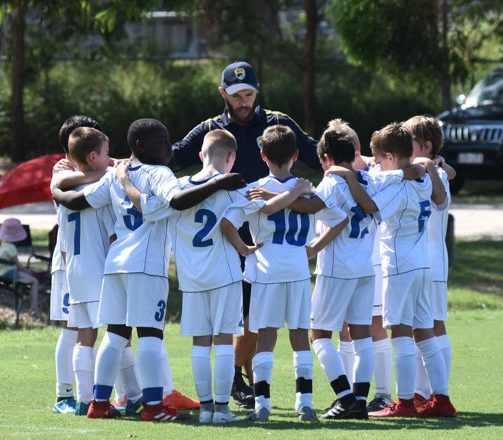 "Shane's been with us since day 1 of our NPL life, he knows what the club's about and what our expectations are, where we want to get to," Midgley confirmed.
"He's a quality coach and quality person, I know he'll do a top quality job to build on the foundation left by Jamie Dixon."
"To be honest I'm absolutely delighted with these appointments!"
"The platform has been well laid, our Academy and SAP programs have been delivering, but we are constantly looking at ways to improve and we think this step is in the right direction."
As for Robinson he's already working hard at ways to change-up the SAP programs to improve delivery, working in unison with Saunders and Hay and with Rahul Shetty, who now heads the club's Talent Centre Programs at Robina City and Tweed United football clubs.
According to Robbo, "Jamie and Craig have established one of the best youth academies in the state and it's a privilege to be able to lead the Boys SAP going forwards." 
"I was a Gold Coast junior and I know the area is rich in talent.
"Our coaching staff are passionate about developing the regions' top players but also developing good young people."
"I'm really looking forward to the role and feel it's a program the entire region can be proud of."
With Expressions of Interest open for players to join our SAP & Junior NPL programs in 2021, it's an exciting time for the Club with one eye on the remainder of this season and another on next.