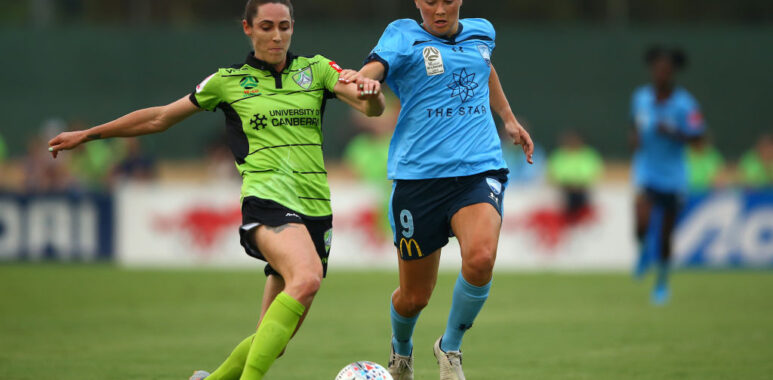 Jessie Rasschaert joins United
Jessie Rasschaert in action for Canberra United in the 2019-20 W-League
Exciting news for the Women's squad with the signing of Jessie Rasschaert for the remainder of the Football Queensland, National Premier Leagues Women's season. 
A late comer to the professional ranks, Rasschaert signed her first contract with Canberra United in the W-League in 2019 after winning the Capital Football 'NPLW Player of the Year' playing for Belconnen United.
The experienced defender headed north to the Sunshine State at the end of the 2020/21 Westfield W-League season, spending a short stint at Logan before joining United, something that coach Alex Bundalo is delighted about.
"Jessie is a lovely person and an awesome competitor, she's an excellent fit for our squad and the club."

"Players of her experience and maturity bring an assured, confident approach to their football, which I believe will have a very positive impact on the squad, on all of our younger female players and around the club."
Excited about the next chapter in her football journey, Rasschaert is positive about her switch to Gold Coast United.
"GCU has a good reputation and good culture and a winning mentality, that's something that I want to be a part of and hopefully contribute to."
"Alex, the girls and all the staff have been really welcoming and happy for me coming on board.
"I've been really impressed with the quality and commitment of everyone."
"And the girls all seem really United off the field too and I think that's important in making a winning team. I'll always try and promote unity within my team on and off the field."
Jessie is also excited about spending more time with her wife Jenna and their two boys, Tristan and Leo, having spent some time apart because of W-League commitments.
"Being a parent has taught me a lot about patience, which if you ask my wife is not one of my strongest virtues."
"But in relation to soccer, it has made me appreciate the opportunity to play even more, because being away from my family was one of the hardest things we've had to do, so I want to enjoy, win, learn and make the most of playing and that's what Gold Coast can offer me."
Tall, athletic and fast are some of the physical attributes Jessie brings to the pitch.
"I used to do sprinting and long jump when I was younger so I'm pretty fast and I don't mind going up for corners either to try and get a head on it."
"Being able to jump definitely comes in handy!"
"I'm also pretty competitive and I don't like losing so I'll always try to be the best I can be on the field."
Everyone is really excited to watch you perform on the park Jessie.
A warm welcome to you and your family to the club.